Archos 5 internet-enabled PMP
Our new favourite mobile video device?
---
A fully customisable five-band graphic equaliser allows you to fiddle with the player's sound profiles should the desire so take you. Music can be browsed by artist, album, rating, song title, genre or year and playlists can created within the player. The 5's handling of ID3 tags and album art is faultless.
Internet connectivity comes courtesy of 802.11g Wi-Fi - up from b on the 605 - and the 5 demonstrated a fine ability go pull in signals when quite some distance from a router.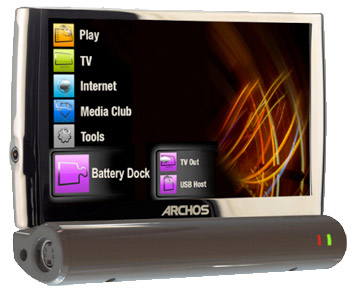 A mains charger isn't supplied, instead Archos asks you to pony up £25 for this "Mini Dock"
The web browser, like that on the 605, is described as "Powered by Opera". But allied to a superior touchscreen interface it's now a far more usable application, and responds rapidly and fluidly to screen taps and swipes, making a stylus wholly unnecessary. The virtual keyboard has been redesigned too and is now a text-book example of the breed.
The Opera browser does pretty much everything you would expect a real web browser to do including supporting tabs and Flash 9. YouTube videos played a treat but its rendering of the BBC's iPlayer was just a little on the clunky side, giving the impression we were only seeing every 5th frame or so though the sound was fine. Lucky then that Archos' internet media tablets are among the players supported by the iPlayer's new portable media player download service.
The 5 also comes with an email client that supports POP and IMAP, and a contacts database. We aren't sure exactly how necessary these applications are when 90 per cent of mobile phones do the exact same thing, but at least they are free.
Plug the 5 into a computer and you can set it to charge only, or it can appear as an MTP device or one of two MSC modes: "PC Hard Drive" and "PC Hard Drive (auto-ARCLib)", the latter being recommended for Mac and Linux users.