Archos 5 internet-enabled PMP
Our new favourite mobile video device?
---
Archos quotes a full charge as being good for 22 hours' audio play and seven of video. We say that is either a typo, or Archos is being very, very optimistic. The best we managed in real world use was 14 hours and five hours, respectively, though this may be a beta firmware issue fixed in the final release.
Use of the Wi-Fi radio has a major impact on those numbers. Out of the box, the 5 can only be charged through a computer's USB port as Archos doesn't supply a mains adaptor. Instead, it asks you to pony up a further £25 for the "Mini Dock".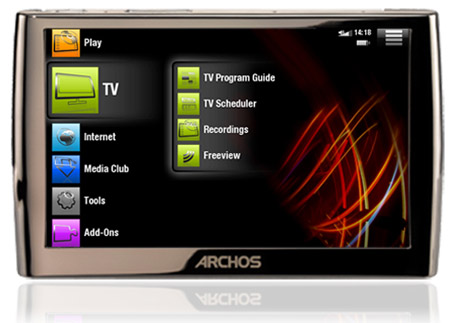 The UI will be familiar to anyone who has used a 605 or 705
Prices direct from Archos for the 5 range start at £280 for the 60GB model climbing to £360 for the 250GB device. In between sits the £320 120GB model, £20 more than you can get a 160GB 605 Wi-Fi for. Value for money? When you consider that a 32GB iPod Touch will put a large hole in £290 we would say yes, though we continue to have reservations about Archos' desire to charge extra for just about everything under the sun.
A case? That'll be £15. Want to record TV shows or play back media on your telly? You'll be needing the £80 DVR Station. Cowon, by contrast, just supplies you with a cable. Prices are yet to be announced for the DVB-T clip-on, or the helmet cam, or the battery dock, but we are guessing they won't be cheap.
For anyone who wants a bigger screen, the 5 will in due course be joined by device with a 7in screen and a HDD capacity of up to 320GB called... the 7. Also coming down the pike is the 5g, which is a 5 with a SIM card slot and support for HSDPA, though with only a 30GB HDD.
Verdict
The A5 isn't perfect, but is comes very close. The device looks and feels superb, media playback is excellent, the internet experience is one of the best available on any current mobile device and the touchscreen UI is almost beyond criticism. Perhaps the screen lacks that last degree of fidelity found on the Cowon A3, and points have to be deducted for the lacklustre codec support, the proprietary USB cable, the poor earphones and lack of a supplied mains charger.

Archos 5 internet-enabled PMP
The Archos 5 replaces the Cowon A3 as Register Hardware's favourite mobile video device. The King is dead, long live the King!
Price:
£280 (60GB), £320 (120GB), £360 (250GB) RRP