SanDisk reinvents 1980s personal stereo for the noughties
Sansa SlotPlayer to take SlotMusic cards only
---
SanDisk has continued with plans to replace the CD with the SD, by launching a portable music player based around its pre-loaded Micro SD card notion.
The Sansa SlotMusic Player is designed to take the storage firm's SlotMusic cards, unveiled last month. Fortunately, it also accepts so-called "self-loaded" Micro SD cards crammed full of your own musical mixtures.
Think of it as the cassette Walkman de nos jours.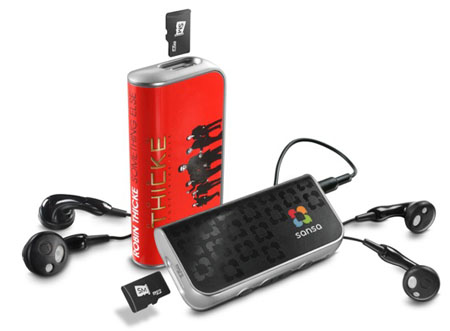 SanDisk's Sansa SlotMusic Player: Micro SD cards only
To get things moving, SanDisk's teamed up with a stream of artists, including Coldplay and girl-kisser Katy Perry, to launch a series of SD cards with the artists' albums pre-loaded. The Sansa slotMusic Player comes pre-loaded with an album on a 1GB SlotMusic card, but some of the capacity's consumed by liner notes, album art and content "personally chosen" by the artist.
The storage manufacturer's even created a range of Sansa SlotMusic Player accessories, which include a card wallet, an armband and "shells" for customising players to your individual taste.
SanDisk will initially release the player into the US for $35 (£20/€26) - each pre-loaded SD card costs $15 (£8.60/€11.06). The player and pre-loaded cards will be shipped into Europe next year, but a UK price hasn't been recorded yet.