T-Mobile Googlephone to hit UK in two weeks
G-Day announced
---
Brits will be able to get their hands on T-Mobile's G1 Googlephone at the end of the month, the carrier said today.
The G1 will be available from Thursday, 30 October, T-Mobile said. Sign up for a Combi or Flext £40-a-month package, and you have have the G1 for nowt.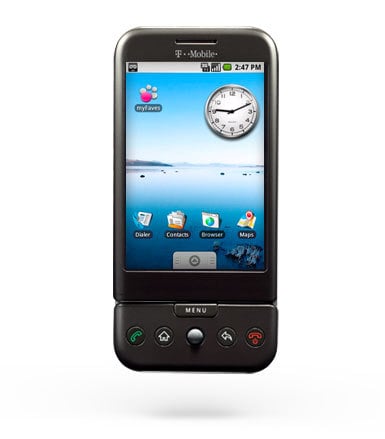 T-Mobile's G1: arriving in the UK at the end of the month
The Combi tariff comes with 800 minutes' talktime, unlimited text messages and "unlimited" internet browsing on the G1's HSUPA/HSDPA 3G connection. Flext also gives you fair-use policy defined unlimited browsing, but you have up to 1250 minutes talktime or send up to 2500 texts a month - or a mix of the two.
Been living under a stone for the past few months? G1 is the first handset based on Google's Android platform. It has Wi-Fi and Bluetooth in addition to its 3G connectivity, with a three-megapixel camera and stowable Qwerty keyboard.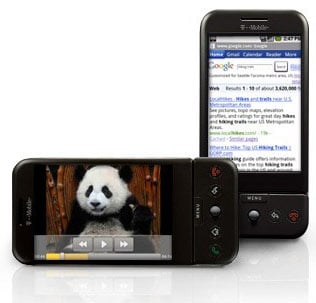 Watch out, iPhone
The 118 x 56 x 27mm, 158g G1 has GPS on board. It can take Micro SD cards of up to 8GB, but comes with a 2GB card to hold snaps, music and video ready to play in its various media apps.
T-Mobile said the smartphone offers a five-hour talk time, rising to 130 hours in stand-by mode. It'll be availble in a choice of black and white.
T-Mobile G1 Hands-on First Look