First Look SanDisk's upcoming cassette Micro SD personal stereo, SlotMusic, will be coming to the UK and the rest of Europe early next year, Register Hardware can reveal after having a play with the gadget.
The ciggie-lighter sized player is a model of simplicity: a Micro SD slot at one end, 3.5mm earphone socket and power key at the other. On one edge you'll find the play/pause and track skip keys, all implemented as simple rubber covered switches.
There's no display, but SanDisk sees the SlotMusic Player as a single-album device. The main body section is actually a slide-off U-shaped sleeve, and each album comes with a sleeve-shaped sticker: peel it off and slap it on the sleeve, and not only do you have the album art on the front, but a track list on the back so you can skip to the track you want.
SanDisk will sell the SlotMusic Player bundled with an album, so the US price of $35 includes a $15 album, so the hardware's actually only $20. In addition to the album art, there's a generic SlotMusic sleeve sticker.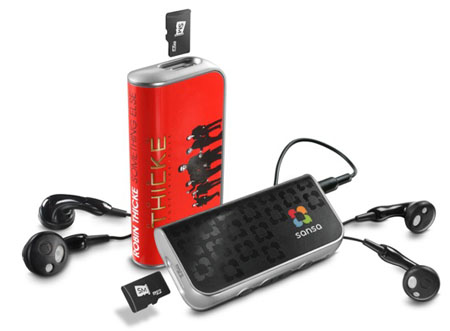 SanDisk's SlotMusic Player: cheap and cheerful
Removing the sleeve reveales the Player's battery bay: it takes a single AA alkaline battery, included with the Player, so you're ready to go and there's no need to ever connect it to a computer. Actually, you can't - there's no USB, for starters - but that's the whole point.
Each SlotMusic card is 1GB in capacity, and the Player will take generic Micro SDs of up to 2GB. The songs are stored in 320Kb/s MP3 format, so there's no DRM and you're free to play the tracks on other devices, copy them, back them up, format the card etc. The Player's own sound quality isn't great but it is adequate.
In the States, SanDisk is partnering with WalMart and BestBuy to sell Players and SlotMusic albums. Over here, no retailers have yet - publicly, at any rate - been signed up, but SanDisk say it's talking to all the major music retailers, from specialists like HMV and Zavvi to generalists like bookshop chains and grocers.
The Micro SD SlotMusic card comes in a small plastic case, itself inside a CD-style jewel case. Packaging overkill, yes, but it's retail friendly, allowing SlotMusic racks to show up as well as CD racks do, and even be stacked among the discs - with suitable 'does not contain a CD' messaging, we hope.
SanDisk also reckons buyers will want to stack their SlotMusic purchases with their CD library, which is another reason why it's packaging the products in CD jewel cases.
Not only does SlotMusic use an entirely open and accessible music format but SanDisk also says it's publishing the spec - such as it is - to allow other Micro SD vendors to strike deals with labels and release SlotMusic albums of their own.
The company's not daft - it knows it needs more widespread adoption of the format if SlotMusic is to become the de facto successor to the CD it wants it to be.
It also knows it needs consumers, and it believes there are plenty of folk out there who either aren't yet ripping CDs to PCs and copying the songs to players. Some are just uncomfortable with the process - we know people who do this for non-techie partners. Other people simply don't want the hassle - they want to buy an album, slot it into the player and start listening immediately.
SlotMusic albums also bundle a very slim USB adaptor, so Micro SD cards can be plugged into in-car hi-fis and other music playback devices with USB slots. Again, SanDisk reckons the format will appeal to people already using these methods.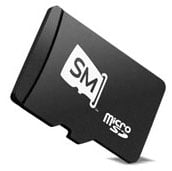 A Micro SD card rebranded
We're not convinced there's a long-term future for SlotMusic, but it's certainly the case that CD sales - purchases of physical, tactile media - still outweigh downloads. If plenty of punters still buy CDs rather than downloads, it's plausible that SanDisk can persuade them to buy memory cards instead. Plenty of CD buyers don't rip their discs as soon as they get them home.
CD, of course, is supported by a huge array of players, and most folk own a CD playback device of some kind. But there are a fair few phones out there with Micro SD slots, and SanDisk sees SlotMusic appealing to owners of these devices as much as anyone else.
Will it work? It might, and it's going to be interesting to see how SanDisk promotes the platform. It seems a crazy idea to people who download at the drop of a hat, but they're not the target audience. As we say, there a lot of music consumers who aren't downloading. Maybe now they never will.
We're sceptical, but SlotMusic is going to make an interesting experiment.
SanDisk MP3 Player Reviews
SanDisk Sansa Clip MP3 player
SanDisk Sansa Fuze

Sponsored: How to simplify data protection on Amazon Web Services