Adobe has been caught hosting a web page that redirects unsuspecting visitors to websites that attempt to install malware on vulnerable machines. The company was informed of the problem on Friday, but six days later, it still hasn't been fixed.
The infection, which resides at hxxp://www.seriousmagic.com/help/tuts/tutorials.cfm?p=1, instructs users browsers to silently install a malicious file from a series of domains known to host attack sites. Adobe announced its acquisition of Serious Magic two years ago and whois records indicate the company is the owner of the seriousmagic.com domain.
According to this post from anti-virus provider Sophos, Adobe was notified of the infected page on Friday. The Register visited the link (using a virtual machine, of course) on Thursday and found it was still trying to redirect users to a series of nefarious sites including hxxp://abc.verynx.cn/w.js and hxxp://1.verynx.cn/w.js. While those links no longer appeared to be active, two other sites used in the attack, hxxp://jjmaobuduo.3322.org/csrss/w.js and hxxp://www2.s800qn.cn/csrss/new.htm, were still active at time of writing.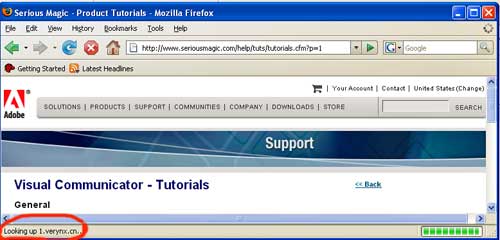 This redirection brought to you by Adobe
The sites are associated with the malware Sophos dubs Mal/Badsrc-C. It spreads by infecting legitimate sites using so-called SQL injections. Such attacks take advantage of web developers who write SQL database applications that accept user-supplied data without inspecting it for malicious characters. They work across a broad array of web applications.
An Adobe spokesman said the company was looking in to the matter.
With Fortune 1000 companies such as Adobe punting malicious links, it's no wonder security experts estimate that more than half of the websites hosting malware were legitimate destinations that had been hacked. Sensitive government websites on both sides of the Atlantic have also been commandeered over the past year.
So next time you discount a vulnerability in your favorite browser or music player because it requires the user to be lured to a website under the control of an attacker, remember the scenario isn't as far-fetched as it seems. With a little help from sites like Adobe, the bad guys just may have their way with you. ®