But pooling all such data centrally means even on its own, the überdatabase is powerful and unprecedented. The scenarios are not hard to imagine: a UK jihadi is discovered buying fertiliser by MI5 as part of its normal monitoring of retailers. A quick call to the lads at GCHQ turns up his web browsing history and it turns out he's spent a lot of time on 72virgins.com. IMP is deployed and at the same time a list of everyone else in the UK who has visited that site is produced. Those names are then cross referenced with mobile phone records, and the location data reveals a pattern showing six visitors to 72virgins.com have often been in the same location in London. Instantly, we've got our terror cell.
Replace jihadis with paedophiles, animal rights extremists or whoever, and the power of the überdatabase to expose networks is obvious. As, to many Reg readers, are the dangers of trusting government agencies with such an ocean of data. The intelligence services have a long and unfortunate history of lost laptops - the spooks were forgetful in the bars of Westminster and Vauxhall before it became trendy throughout government.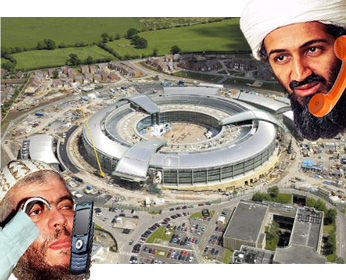 A typical day at GCHQ
The Eye-O-SauronJacqui™
For IMP critics, the biggest worry is that the überdatabase won't only be used in the kind of reactive way described above. With all that lovely data on hand at all times, the temptation for analysts to go on "fishing trips", attempting to proactively look for "terrorist" patterns will be strong, they charge. It's a concern shared by Liberal Democrat Lord Carlile, the government's independent scrutineer of counter-terror legislation.
According to an influential US government-backed report released last week, at present the software techniques for counter-terrror data mining are mostly ineffective. There is a world of secretive companies working on the problem, however, such as BT spin-off ThorpeGlen and black box provider Detica.
At the beginning of this month vendors met at a conference called ISSWorld Europe in Prague to discuss such topics as "Investigative Analysis and Intelligence Gathering Solutions". El Reg (very) speculatively asked to attend, and was politely told to foxtrot oscar.
Jacqui Smith seemed to indicate yesterday that the ways authorities are allowed to use the überdatabase might be limited when she said: "We also need to agree what safeguards will be needed, in addition to the many we have in place already, to provide a solid legal framework which protects civil liberties."
As we've seen many times in recent years, such safeguards and "solid legal frameworks" are likely to be flexible in times of perceived crisis.
And as we've explained above, the überdatabase is only one piece of the two-part IMP puzzle. When linked to the black boxes it will facilitate on-demand wiretapping of any communication in the UK. Once the überdatabase is in place authorities will know which nodes in the networks - be they chat clients, email programs, mobile phones, websites - are talking to each other. Together with a black box tap on every wire, all it need do is flick a switch and all of a suspect's conversations across every communications device and application will be mirrored to analysts. We're presuming Jacqui's "restrictions" don't extend to tightening the terms of RIPA warrants.
The irony of the naked propaganda published by The Times today is that it cites Skype as the problem IMP is intended to solve. Although the überdatabase will collect new intelligence on who is using the world's most popular VoIP system, Skype's encryption algorithms mean the content of computer to computer UK and international calls will remain as obscure as ever.
Nevertheless, if IMP's instant access £12bn digital surveillance buffet is indeed built, then the UK government's ability to eavesdrop on citizens will have no compare worldwide. And no amount of consultation or consensus will change that. ®