Apple iPod accessory maker Logic3 launched a number of new devices yesterday at the Digital Winter event in central London.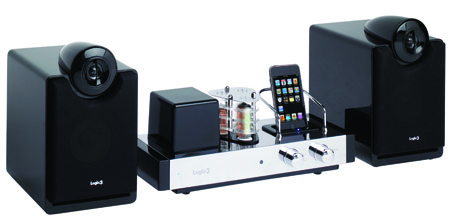 Logic3 Valve80 amp and speakers
First is the Valve80 peaker set built around a vacuum tube amplifier and with piano black Kevlar speakers. Delivering 80W RMS of impressive sound - as Register Hardware witnessed first hand - it has two auxiliary inputs for connection to a TV, CD player or mixing decks. Plus an iPod dock and charger with remote control.
Priced at £300, it will be available from early November.

Logic3 i-Station Rotate
Next up is the i-Station Rotate portable speaker system. Logic3 claims this is the first iPhone-compatible speaker to feature a built-in rotating dock mechanism allowing the videos to be watched without any unnecessary straining of the neck.
It also features a 3.5mm stereo line-in socket and 10W output. Powered by four AA batteries, it measures 315 x 55 x 120mm and is priced at £79. Available from December. Both products are compatible with existing iPods.
Logic3 Accessory Reviews
Logic3 Soundstation3 speakers
Logic3 i-Station IS10 iPod alarm clock
Logic3 i-Station Traveller portable speakers