This article is more than 1 year old
Apple MacBook
A complete overhaul only improves this neat notebook
Review It was no secret that Apple was planning to update its laptop range this month, but the early betting was on a new, budget-priced MacBook to win over even more consumers to the platform.
Macs have been selling extremely well over the last year or so, edging towards ten per of the market in the US, compared to Apple's traditional niche of three to five per cent. Much of that increase has been due to the success of the MacBook. So it seemed to make sense when Wall Street analysts – who often get advance warning of new products from Apple – started to predict the arrival of a low-cost model that would help Apple grab even more market share.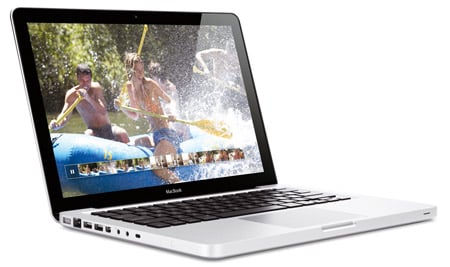 Apple's MacBook: the junior MacBook Pro in all but name
True to form, Wall Street got it wrong, and Apple ended up giving the MacBook a major overhaul that actually resulted in a price increase - although it has craftily left itself with one low (ish) cost option still remaining.
The new MacBooks now start at £949, compared to £699 for the previous entry-level model. The £949 MacBook has a 2.0GHz Intel Core 2 Duo processor, with 2GB of 1066MHz DDR 3 memory and a 160GB hard disk. There's also a second model – the one we tested – that costs £1149 and increases the processor speed to 2.4GHz and the hard disk capacity to 250GB. Both models have the same 13.3in, 1280 x 800 glossy widescreen display.
Those specifications aren't drastically different from those of the last generation of MacBooks, which raises a question mark over the price increase.

The white plastic is out, in its place a gleaming metal makeover
Apple explains this by saying that the two main requests they have received from MacBook users were for a metal casing and improved graphics performance. In other words, they wanted the MacBook to be more like its big brother, the more powerful and expensive MacBook Pro.