This article is more than 1 year old
Microsoft's 'ordinary Joe' promises Windows 7 bliss
Workers, not managers, in charge
Windows chief Steven Sinofsky has wheeled in an "ordinary" developer to re-assure folks that Microsoft won't repeat the mistakes of Windows Vista in Windows 7.
Microsoft employee Larry Osterman has been brought out to say Windows 7 won't slip, and it won't contain the kinds of bugs that dogged Windows Vista with hardware and software incompatibilities.
Osterman was writing on Sinofsky's "official" Windows 7 blog. The blog represents an attempt to clamp down on potentially negative rumors and convince the world all's well in Windows 7.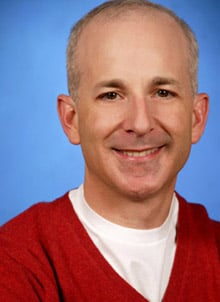 Sinofsky: on message
To bolster Osterman's credibility as an "ordinary" guy appearing on the official Microsoft Windows 7 channel, Sinofsky said Ostermann had written the post without any prodding.
Sinofsky is the senior vice president of the Windows and Windows Live engineering group and follows in the wake of platform and services division co-president Jim Allchin, who helped steer Windows Visa to disaster. Sinofsky will be speaking more about Windows 7 Microsoft's Professional Developers' Conference (PDC) later this month.
Microsoft has of course not said when Windows 7 will ship, but there's a widespread belief Windows 7 will arrive next year.
According to Osterman, it's the Windows 7 feature teams are calling the shots on cutting features with management "standing behind them." "In Vista it would have been much harder to convince senior management to abandon features," Osterman reckoned.
"One of the messages that management has consistently driven home to the teams is 'cutting is shipping', and they're right. If a feature isn't coming together, it's usually far better to decide NOT to deliver a particular feature then to have that feature jeopardize the ability to ship the whole system," he said.
It was Microsoft's public commitment to foundational features in Windows Vista, such as the ambitious new storage subsystem unveiled by chairman Bill Gates in 2003, that helped produce monumental delays in Windows Vista.
In another change, Osterman reckons the Windows build and testing teams have been integrated so code is not simply dumped on testers, who must then deal with the fall out.
Integrated coding and testing teams? What ever will Microsoft, preaching to its own customers on the virtues of adopting integrated application lifecycle management (ALM) via its Visual Studio Team System (VSTS) tools, think of next?
"This is a massive change from Vista," Osterman said. "In Vista, since the code was complete we'd have simply checked in the code and let the test team deal with the fallout. By integrating the test teams into the planning process at the beginning we were able to ensure that we never put the test organization into that bind. This in turn helped to ensure that the development process never spiraled out of control."
Astute readers will have noticed Osterman is using the past tense when talking about Windows 7. This suggests engineering has been completed. The reality, though, is Windows 7 is far from finished and Microsoft has been working on internal builds.
Much work is left for taking in feedback and then incorporating this by building and refining features, before Windows 7 is really finished.®