First Look Sony brought its skinny Vaio TT 11.in laptop to the UK today, and Register Hardware had the chance to try it out.
There's no question, the TT is impressively thin and light - though it doesn't have that float-away, helium-filled feel that Toshiba's new Portégé R600 does. Or - perhaps thanks to its carbon-fibre construction - a cheap, plasticky feel.
Sony said it will come with a three-year warranty, so the company's obviously confident about the 1.3kg TT's resilience.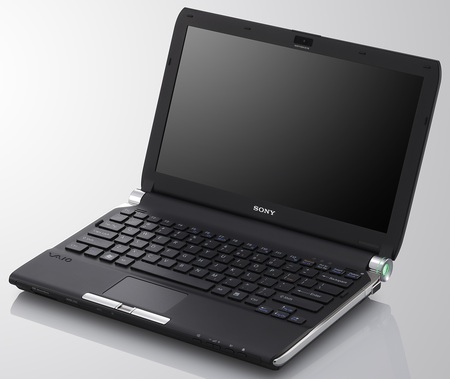 Sony's Vaio TT: compact but fully featured
Like the R600's predecessor, the R500, the Sony machine has a flimsy-feeling screen assembly that's worryingly bendy, though Sony was at pains to point out it's not lacking in build quality. The screen - which sports an LED backlight, Intel GMA 4500MHD graphics and the unusual resolution of 1366 x 768 - is covered with a "projective coating". Only time will tell if it wards off scratches as well as Sony promises it will.
It's certainly a nice display, and you can switch it to auto-dim mode, which will adjust the brightness according to the ambient lighting conditions. That's one way Sony is able to claim a battery life of up to eight hours - the other is the use of an ultra-low voltage 1.4GHz Core 2 Duo SU9300 processor.

Only 2.6cm thick
Maybe, but during our time with the machine, Windows Vista reported a forecast runtime of just under four hours at 91 per cent charge.
Turning off wireless systems will help. The TT comes with Bluetooth and 802.11n Wi-Fi, but some models will also integrate an Option HSDPA 3G module capable of download speeds of up to 7.2Mb/s and 2Mb/s HSUPA uploads. Sony ships these models with a T-Mobile SIM card, but the module's unlocked so you can replace this with your own SIM.
Sponsored: Webcast: Discover and secure all of your attack surface