This article is more than 1 year old
Skype (kinda, sorta) shields Mac kiddies from VoIP smut
The missing 'sexy dirty b*tch' filter
Comment When Alan Scully switched from a PC to a Mac earlier this year, he thought it would bolster his online security. For the most part, it has - with one notable exception. His Skype client, which he relies on for international calls, has churned out a demonstrable increase in obscene messages that he's powerless to stop.
Skype for the Mac, he soon found out, lacks two features found on Windows versions that keep some of the most offensive content sent by strangers from being prominently displayed. As a result, as long as he has Skype open, he is regularly exposed to fleshy pics and obscene come-ons from fellow Skype users (usually pornographic spammers) requesting to be added to his contact list.
"While these requests are annoying for me, the real danger is for anyone who has a family Mac that kids might use for homework, internet, etc.," Scully, a UK expatriate living in Tokyo, writes in an email to El Reg. "When I have friends who visit me, their kids use my Mac sometimes while we are talking. Each time that happens, I have to remember to ensure Skype is not running."
Scully sent us screenshots demonstrating that the preferences section of his Skype client is as locked-down as possible. His status is set to "away," - not "SkypeMe" - and he permits online calls and chats only from people on his contact list. And yet he regularly receives requests from perfect strangers asking that he add them as a contact. User names have included "sexy dirty bitch xxx," "sexy mari.kemp" and "sexy horny webcam & juicy tits sex webcam." More often than not, they include pornographic pictures.
"I have told them over and over about this and they take no action," Scully says. "It is dangerous for any children using the computer because the default is to accept the contact request and add the contact - hence immediately being vulnerable to pornography, paedophiles."
Skype has plans to partially fix the problem, but it won't happen overnight. In the next week or so, the company will release a new beta version of Skype for the Mac that will allow users to strip out photos from contact requests. A Skype spokeswoman said a stable release won't be available for a month or two after that.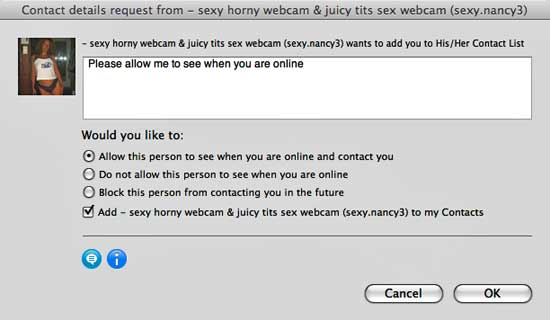 But the move only goes so far. Skype for Windows allows users to receive contact requests in their system tray, rather than much more intrusive popups. So far, there has been no talk about adding such a feature to the Mac client.
More to the point here is Skype's steadfast resistance to letting users decide whether they want to receive contact request messages at all.
"When people sign up for Skype, they don't know who's on Skype and who isn't," spokesman Hani Durzy says. The contact request feature "is something that Skype users overwhelmingly want because it helps broaden their contact list of people they want to connect with.
"It's in everybody's best interest to continually try to find that line between protecting people from offensive content being sent to them and not going so far past the line as to completely neuter the effectiveness and usefulness of the technology in the first place."
In other words, for your own good, Skype has no plans to offer you more control about whether perfect strangers can contact you. AOL Instant Messenger offers such functionality (in its Windows client, at least), and that program seems perfectly virile to us. And of course, traditional phones can be unlisted or put on do not call lists, and no one seems to complain about that.
The bottom line is that while the new Mac client may remove the obscene images from the popup, people can continue to send you or your kids highly suggestive popups and there's nothing you can to do stop them.
"Which means," Scully says, "that children using a family Mac which has Skype installed can have their children's game-playing interrupted by anal sex slut at any time, with the default being to accept the request for contact details."
Actually, one way to stop the popups is to turn the program off. What a concept! ®