This article is more than 1 year old
Asus P6T Deluxe Intel Core i7 motherboard
Intel's X58 chipset makes an early appearance
Preview Intel won't be launching its new Core i7 'Nehalem' processors and X58 - aka - 'Tylersburg' - chipset until some time in November, so we've got to tread carefully with this preview of the Asus P6T Deluxe motherboard. Register Hardware has reported on both the processor and chipset - however, we can't reveal processor performance figures until the date of the official launch.
At first glance, the P6T Deluxe could almost be mistaken for a Core 2 motherboard such as the P5Q Deluxe although there are a few visual clues, the most subtle of which is the new CPU socket which is more rectangular than LGA775.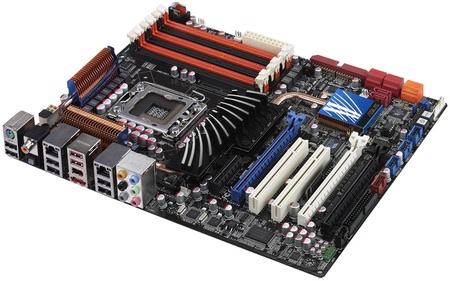 Asus' P6T Deluxe: Nehalem ready
Then there's the passive cooler on the northbridge of the chipset. This bears the rather grand name of Wind-Flow Design Concept, and the idea is that the radiating fins guide the airflow as it's drawn across the chip by the CPU cooler. However, this only works if you use a conventional Intel cooler with a horizontal fan that blows air upwards, away from the motherboard. Enthusiasts tend to favour tall heatpipe coolers that blow across the board, and Intel acknowledges this by including both a stock heatsink in the Core i7 review kit along with a tall Thermalright cooler.
The final clue is the inclusion of six DDR 3 memory slots to take full advantage of the triple-channel memory controller that's built into the Core i7 processor. Since the mists of time, we've grown used to seeing four memory slots on dual-channel ATX motherboards so it seems logical that Asus has added two more slots for the extra channel.
But we're not so sure about the move. Most of us are happy to load a 32-bit operating system with 2GB of dual-channel memory so 3GB in three modules seems like a natural choice. The chance that anyone will use six modules on a desktop PC seems quite remote. The Intel DX58SO Smackover board only has four memory slots, which you can populate using three slots in triple-channel mode, or you can increase the quantity of memory with a fourth module and lose the benefits of triple-channel performance.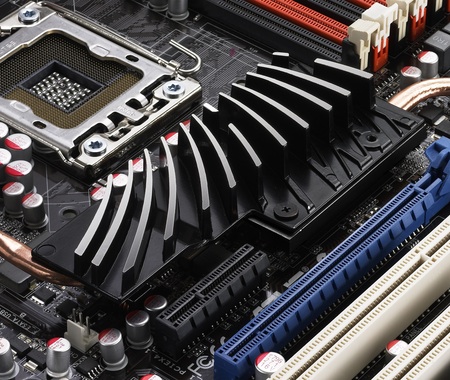 The 'Wind-Flow Design Concept'
Asus has slapped a sticker on the P6T Deluxe which passes on a warning from Intel that you may damage your Core i7 CPU if you use more than 1.65V to power your memory. It's common to find memory that runs at 1.5V but when you're overclocking you often use as much as 2V for high speed memory so 1.65V is a very real limit.