This article is more than 1 year old
US Navy robot kill-choppers to drop auto-snort podules
Suspect sailors' crack sniffed out by droids
The US Navy has awarded funds to develop a self-contained remote electronic sniffer unit which could be delivered to the holds of suspect vessels by a robot helicopter to detect "chemical, explosive, and illegal drug residues".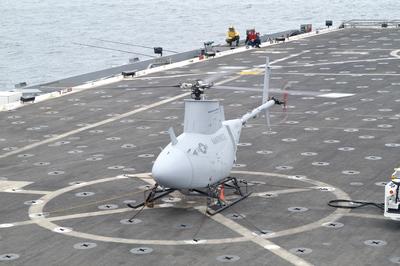 Soon with droppable remote drug-sniffer bugs.
VIASPACE Inc, which spins off technologies from NASA, was pleased to announced today that its subsidiary company Ionfinity has won a $786k phase II deal from the US Navy Small Business Technology Transfer (STTR) programme. Ionfinity will now be expected to demonstrate a working "Miniature Electronic Sniffer for Navy Vertical Take off Unmanned Aerial Vehicles (VTUAVs)" within two years.
The USN is already well down the road to developing the robocopters themselves. The "Fire Scout" unmanned helicopter - also expected to see service with the US Army and possibly Coast Guard - has already had successful hands-off deck landing trials at sea, and operational testing is scheduled for next year aboard the frigate USS McInerney.
Fire Scouts can be fitted with various payloads including radars, electro-optical scanners and various kinds of weapons including "Advanced Precision Kill" smart rockets and "Viper Strike" glider smartbombs.
It now appears that the droid choppers will also be able to drop or lower automatic podules of some kind onto suspect merchantmen. The sniff units will be "completely self contained with respect to power and communications" and able to relay their findings back to the mother ship independently. They'll be able to detect drugs, explosives or other chemical residues of interest within seconds, apparently.
"This new sensor will change the paradigm used for future chemical detection and analysis, making it much more convenient, sensitive, selective and timely," said Ionfinity chief James Weiss.
The remote auto-snorto device will feature "soft-ionization" micro gas chromatograph tech spun off from gear developed by NASA for exploring Mars. It's possible that the whole robocopter ship deployment idea is inspired by the madly complex retro rocket sky-crane system NASA will use to land its new rock-sniffing droid tank on the Red Planet. ®