This article is more than 1 year old
BAE's bandwidth blimp-bot takes off (indoors)
Branson balloon crony floats droid dirigible
A British robot blimp prototype has made its first flight inside a large hangar. The company making the droid airship is run by noted aerial daredevil Per Lindstrand, famous for his ballooning sky-jinks with beardy biz tycoon Richard Branson.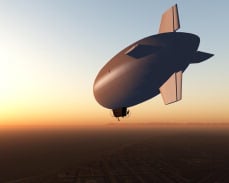 BAE's vision system vision
The GA22 robot blimp's inaugural liftoff took place last week at Lindstrand Technologies' factory in Oswestry, according to the Lancashire Evening Post. Lindstrand is developing the blimp under a deal with UK-headquartered arms and aerospace colossus BAE Systems plc.
"Although significantly smaller than the majority of its competitors, the GA22 can deliver the same level of performance," BAE's Richard Williams told the Post.
"The cost of flying it is lower than an equivalent conventional aircraft."
The GA22 - so called because it is 22m long - is designed to carry 150kg payloads to more than 6,000 feet. The basic Lindstrand airship is remote-controlled at present, but the plan is to add BAE technology and make it fully autonomous.
BAE see the robo-blimp carrying out various different tasks where endurance is more important than speed, particularly comms relay and surveillance. Lindstrand has already sold "the world's first fully functional unmanned airship" to the Spanish military, who use it to carry "a classified payload" on secret surveillance missions.
Mr Lindstrand likes to try out his products himself, and has been involved in many pioneering and/or record-breaking ballooning feats, either solo or with other cloud-happy biz kingpins such as Richard Branson and the late Steve Fossett. The daring Swede is also fully qualified to pilot aeroplanes, helicopters, airships, gliders and autogyros.
The Lancashire Evening Post report, complete with video of the test float, can be read here. ®