Government tied in knots by bondage protest
Campaign group objects to government sexual witch-hunt
---
"Forget the whips and chains: it's actually a lot more serious than that". This was the view of Consenting Adult Action Network Spokesperson and disability activist Clair Lewis, as she joined fashion photographer Ben Westwood and a bevy of bound and gagged models in a demonstration against what they believe to be the latest government witch-hunt.
"It is easy to trivialise this as being about a bunch of people worried about their porn stash when the extreme porn law goes live in January," said Clair. "But the issues run far wider.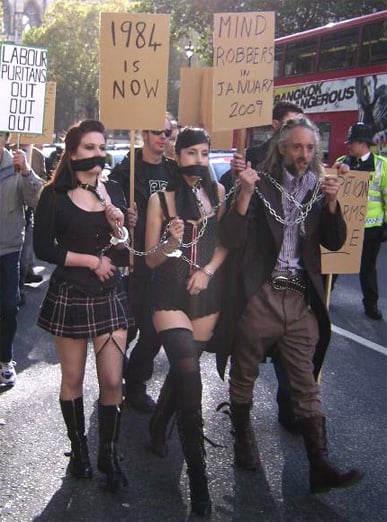 You have nothing to lose but your chains
"Back in 2006 government were still openly claiming that they had no evidence that porn did any harm. Despite that, they changed the Safeguarding Vulnerable Persons Act at the last minute to make it possible to bar individuals from 'regulated jobs' just for possessing porn of any degree of violence. In that one act, they effectively ruled our community out of almost half the jobs on offer.
"The result of these two measures taken together is that individuals are feeling scared, angry and under pressure. We do not believe government reassurances about our sexuality. We think they are as bigoted about kinkiness as previous governments were about homosexuality."
It is possible that Ms Lewis has a point. A spokesperson for the Ministry of Justice was quick to offer reassurance that the government had no such downer on her preferences. According to them, the extreme porn clauses of the Criminal Justice Act (s. 63-66) were about catching material that originated outside the UK that could not at present be prosecuted under the Obscene Publications Act 1959.
There was no intention to attack conduct, so long as it was legal and did not cause harm to the individuals participating in it.
They were rather less forthcoming on the issue of why the UK had adopted this route as a means to protect us all from "Dangerous Pictures". Governments across the world have looked at the issue and, according to CAAN, most are now looking into some form of filtering or blocking. Their spokesperson added: "The UK government is the only one to have turned this into a direct attack on individuals."
Insistence that everything's just fine also come from the Department for Children, Schools and Families. A spokesperson added: "Safeguarding children is top priority for this Government and the child has been put at the heart of our reforms and we are determined to maintain a relentless focus on children's safety."
The real test of these promises is likely to come next year, when the extreme porn law finally goes live, and the Vetting Database comes online. A Ministry of Justice Impact Assessment (pdf) suggests that there should be no more than 30 prosecutions in the first year of the extreme porn law. If true, this would make it a fairly toothless beast.
The law on vetting is something else. Despite government assurances that the vetting database will only cover 11 million adults (still a very large part of the adult population), the estimates are open to question and it's fair to assume overreaction by public service authorities will lead the database eventually to include at least 14 million adults.
There is evidence already, from individuals who have spoken to us, that some employers are beginning to quiz would-be employees about the nature of the material they use for sexual titillation – which puts individuals in the highly difficult position of having to decide between being honest and not getting a job, or lying at interview and risk losing the job later.
That, coupled with the fact that legal precedent now has it that you can be barred from work on the basis of unsubstantiated allegation alone (what used to be called 'hearsay') and the real threat to personal sexuality looks less and less like the extreme porn law: more and more like the vetting database.
Last word on this matter - for now - goes to Baroness Miller, who won the respect of a great many in the BDSM world for her spirited defence in the House of Lords of a lifestyle that is not hers. Reacting to the demo, the Baroness said: "People don't understand what the government was up to in the Criminal Justice and Immigration Bill and why they're interfering in their private affairs. No legislation should leave law-abiding citizens criminalised for private sexual behaviour that harms no one." ®