Google Maps gets gov M-way congestion overlay
Superhighway information information superhighway
---
England's Highways Agency has announced a hookup with Google which presents live traffic information overlaid atop the online ad firm's popular cloud map app, Google Maps.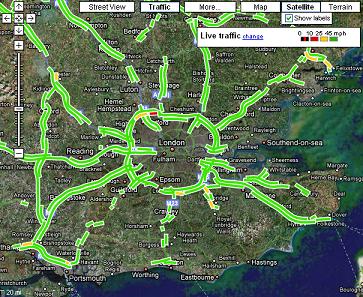 The pileup mashup goes live
"I'm delighted that we are the first country in Europe to work with Google and use our information for the benefit of road users across the country," said Denise Plumpton, head mouthpiece at the Highways Agency.
"This sort of project is a key part of our information strategy aimed at getting traffic information out to motorists where and when they need it... We work regularly with third party organisations in order to get our information to as wide an audience as possible. We look forward to working with other partners in the future."
The Traffic button on Google Maps overlays colour-coded average speed data for motorways and major A-roads, in a format which is at least as easy to use as the Highways Agency's own website - though more data intensive, which could be an issue for mobile users paying by the megabyte.
The Highways Agency is also keen to flag up its digital Traffic Radio service, available on DAB and the web. ®