The four lines of well-spaced metal keys are finished in a brushed chrome look, and have a slight bend that helps to differentiate them under your thumbs. And speaking of bends, one of the style innovations of the X1 is that the screen tilts slightly upwards when you slide the keyboard out. It helps a little with viewing, but doesn't really offer anything you couldn't do with your wrists.
The screen automatically flips into landscape mode when the keyboard is activated and while the display looks handsome enough indoors, it's a bit too reflective to hold up well in bright sunlight.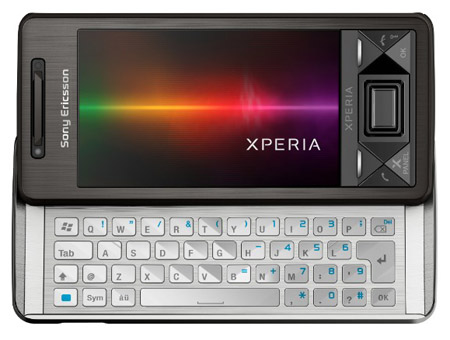 The screen flips into landscape mode when the keyboard is activated
The X1 runs Windows Mobile 6.1 - a first for Sony Ericsson - but unlike, for example, Samsung's Omnia or HTC's Touch series, you will need to use the Windows menus to find your way around. For this you'll (often) need to make use of the stylus, which slots into the side.
At the top menu level, however, Sony Ericsson has made a bit of an effort with its "Panels" UI. This is a series of home pages that each focus on a particular application. Ours came with time and date, media player, FM radio, events, calendar, Google and Fish (they swim around the time and date) panels pre-installed. You can download others, and SE has apparently made this option open to developers, so there could be some interesting choices available soon.
The panels generally look good and they're easy to change, using the Panels button, which shows them all at once. This is an decent way to get around without resorting to the stylus, but since it takes a few seconds to change from one panel to another, the time lag started to grate after a while. As did the rather fiddly control buttons, and the fact that the soft-emnu keys aren't active in every application. We really missed Sony Ericsson's back key.