The camera is of the 3.2-megapixel stripe and is fairly good as far as that goes. The Pics it takes are decent, with reasonably accurate colours. If the definition suffers in respect to those increasingly common five-megapixel affairs, that's only to be expected. Less excusable is the fact ot takes a good three seconds or so for the phone to get into camera mode. Autofocus adds further delay to the shutter time, so the X1 is not great for quick snaps.
All the camera settings are accessed on screen, and while there are a few pre-shot options - including multishot, though not SE's BestPic - there are few features here for post-shot editing. There's an LED photolight rather than a xenon flash, but a nice innovation is the touch focus mode, where you touch the screen at the point you want to be the main focus of your pic, which can make for some arty forced perspective shots.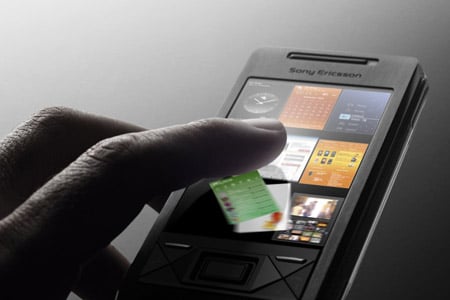 Sony Ericsson's Panels UI sits on top of Windows Mobile
Incidentally, video quality doesn't take too much of a downward step, since the X1 records and plays at 30f/s - 640 x 480 (VGA) only - giving smoother-than-expected recording and playback.
There's also a VGA camera on the front for video calls using the phone's HSDPA 3G connection. And speaking of connections, the X1's got everything you could need, including Wi-Fi, Bluetooth and infrared. Push email is available through Windows Outlook, and of course you get the main advantages of the Windows Mobile platform: easy syncing with a PC and a wealth of third-party applications.
The music player owes something to SE's Walkman series - there's also Windows Media Player if you feel the need - though it feels a bit under-specced in comparison. It will display album art, but there's no graphic equaliser and a limited number of filing options. The X1 doesn't come with Sony Ericsson's best headphones - they're reserved for the Walkman series - though they're really not bad at all.