NASA kids' compo: Name the inflatable moon habitat
'It's like a bouncy castle, but more sophisticated'
---
US space agency NASA has announced a competition for schoolchildren to name a prototype inflatable habitat module intended for use on the Moon. An early test model is currently being tried out for resistance to cold at McMurdo Station in Antarctica.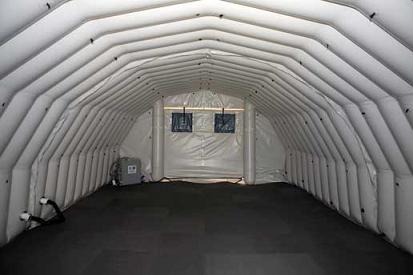 Fly me to the moon - what spring will be like on Mars, if not Jupiter.
According to NASA:
The structure looks something like an inflatable backyard bounce house for children, but it is far more sophisticated. It is insulated, heated and is pressurized, and has power. It offers 384 square feet of living space and has, at its highest point, an 8-foot ceiling.
The aptly-dubbed "Name the Hab" compo is only for American schoolchildren (6th to 10th grade, for our US readers) and entries must be in by midnight Eastern Standard Time 20 November 2008. Entries are to be from a whole class, organised by the teacher, rather than from individual nippers. Full details are available from NASA here.
It seems that the existing trial inflata-house was partly funded by NASA, partly by the US National Science Foundation and partly by the company that built it, ILC Dover. The compo itself is run by the Challenger Center, an educational outfit set up by the families of the astronauts lost in the Challenger shuttle disaster.
NASA is also considering other options for construction of the planned US Moonbase, which will start going up at some point in the 2020s. Whichever kind of building is chosen, it will need to be light - NASA says it will have to launch 125kgs of mass for every kg which reaches the lunar surface. ®