Some good news and bad news about global warming: The bad news is that Earth's rising temperatures could threaten coastlines, endanger wildlife, and - in some extreme cases - melt your ice cream. But it could also turn some of us into crystalline magnet men of immense size and power.
Giant magnet creatures in my warm planet? It's more common than you think.
An international team of scientists say they've discovered "giant" magnetofossiles, believed to be pieces of an organism informally dubbed a "Magnetic Death Star." Freshly unearthed at a dig in New Jersey, the microorganisms are up to eight times larger than previously known magnetofossiles and thrived some 55 million years ago — during an ancient and not well understood bout of global warming known as the Paleocene-Eocene Thermal Maximum.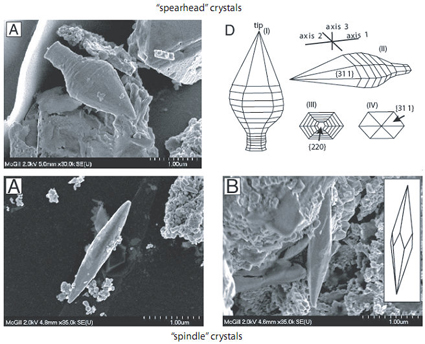 Images courtesy of CalTech
During aforementioned PETM, Earth's average temperature rose more than 9 degrees Fahrenheit as massive amounts of carbon entered the atmosphere in the space of only a few thousand years.
The resulting environmental stress seems to have had done quite a number on life-forms, say Caltech researchers.
Increased CO2 levels appear to have promoted dwarfing in mammals. However, several major mammalian orders like horses and primates suddenly appear in the fossil record and began their spread across the globe.
Almost half of the common sea bottom-dwelling microorganisms known as foraminifera became extinct in the warmer waters, incapable of carrying the levels of dissolved oxygen for which they were adapted.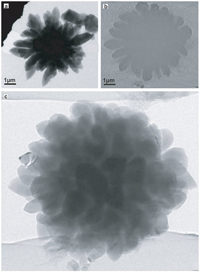 That's no moon...
"Imagine our surprise to discover not only a fossil bloom of bacteria that make iron-oxide magnets within their cells, but also an entirely unknown set of organisms that grew magnetic crystals to giant sizes," said Caltech postdoctoral scholar Timothy Raub.
We're still talking tiny stuff here. A typical sample of the "giant" spearhead-shaped crystal measures about four microns long — meaning about a hundred would fit at the period end of a sentence, the researchers note. But their size is about eight times larger than the previous world record for the largest bacterial iron-oxide crystal.
(Guinness World Records sadly doesn't have a category for largest bacterial iron-oxide crystal. Curse you, limelight-stealing "Longest Ears on a Dog" researchers!)
The magnetic crystals also come in a wide array of shapes. The spearhead-shaped magnetic crystals are only a small fraction of the iron-oxide crystals in the PETM clay layer. Most are smaller sizes and special shapes, the researchers say, which indicate they are fossils are leftovers from magnetotactic bacteria, which use the magnetic crystals to orient themselves within the planet's magnetic field.
The rarest fossil type in the deposit is a spherical cluster of spearheads dubbed the "Magnetic Death Star" by the researchers. They believe the Magnetic Death Star are the actual shape of how the crystals occurred in the bacteria's structure.
Researchers hypothesize the critter was a single-celled eukaryote that evolved for the first time during the PETM but was outcompeted and died out once the period of global warming diminished. Or maybe it could still exist somewhere out there. Ain't science a bitch? ®