Images and specifications have been unearthed of yet another addition to Nokia's E-series smartphone line-up.
One picture of the mystery device, which was leaked in various forum posts, shows that the device is labelled the E63. A second snap shows that the unannounced E-series phone is also roughly the same height and width as Apple's iPhone.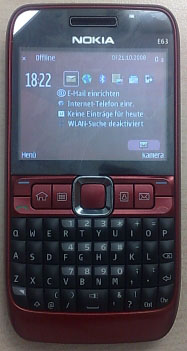 Nokia's E63: somewhere between the E61 and the E71?
Like the E61 and E71, the E63's been given a BlackBerry-style physical Qwerty keypad. It's unlikely that the phone's display, said to have a resolution of 320 x 240, will be touch-sensitive, but you never know.
We've also been provided with some additional potential specifications for the E63, but most are rather mediocre. For example, the phone could sport a rear-mounted camera of at least two megapixels, but won't come with a user-facing snapper for video calls.
Despite that, it's still said to have HSDPA 3G connectivity and there's also mention of Wi-Fi connectivity. Bluetooth will be on-board too, but what self-respecting handset wouldn't support the short-range data transfer technology these days?
A 3.5mm audio socket means you can plug in your own earphones for music on the move, and the phone's left-hand side is said to feature a Micro SD memory card slot, where all your tracks can be stored.
Hopefully, Nokia will avail its panting punters with some official clarification on the E63's existence - and the recently leaked E72 and E75 - sometime soon.
Similar topics