Review Portable laptop speakers aren't easy to get excited about. Most tend to look cheap, sound cheap and often aren't all that portable.
Edifier's new MP300 2.1 speaker systems kicks the first two preconceptions into the long grass with some ease and while not exactly light or small, the set makes remarkably good use of the space it takes up.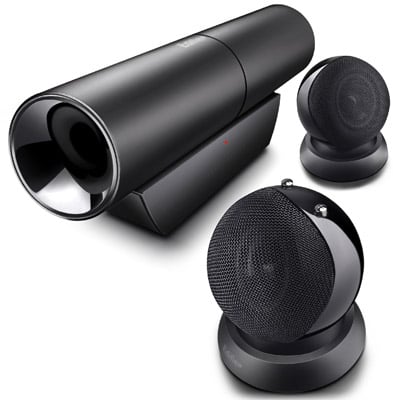 Edifier's MP300 Plus: high standard of manufacture
The MP300 comes in three parts: the 60mm-diameter by 280mm long tubular sub-woofer and two 55mm-diameter spherical satellite speaker pods. Across the board, the standard of manufacture is very high indeed, the woofer being constructed of aluminum while its base and the satellites are of high quality plastic. The whole rig is decked out in the best Spinal Tap black.
Edifier has thought hard about how best to utilise the space around a laptop, so the sub-woofer is intended to sit in the no-man's land behind the lid - out of sight, out of mind, but not out of earshot.
The two satellites connect to the sub-woofer with 55cm cables that join together about 3cm from the end and so share a common multi-pin socket. The sub-woofer, in turn, connects to the mains power supply and your computer – or MP3 player or PMP - with the supplied 3.5mm-to-3.5mm cable. Actually, Edifier supplies two 3.5mm cables: a short, 55cm one and a long, 1.7m one, which is a nice touch.
If we had to be nit-picky, we'd have liked the satellite cables to have been a shade longer - a stereo spread of around 200cm would give a better sense of separation than the 110cm maximum allowed.