'Leccy Tech Toshiba has announced plans to up its production of lithium-ion battery cells from the current 150,000 a month to three million by 2010, its eye on the new hybrid and plug-in electric cars silently heading our way in the next few years.
How many cars that monthly cell count equates to is a grey area. BMW's new Mini E is said to use 5000 cells, so Toshiba's ramped production will be good for about 600 cars a month. On the other hand, the Toyota Prius II only uses 228, so 13,000 of the things could soon be swanning about under Toshiba power.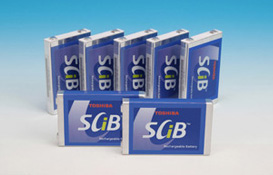 Toshiba's SCiB: soon to be powering your 'leccy car?
Toshiba claims its fancy SCiBs (Super Charge Ion Battery) are safer, generate less heat, are less prone to... er... catching fire, have a ten-year lifespan and re-charge faster than conventional lithium-ion batteries. Apparently, it's all down to the lithium-titanium-oxide negative electrodes used is preference to the more common carbon-based kind.
Tosh also claims a 90 per cent charge capacity after a mere five minutes' connection to the mains, though we suspect that doesn't directly apply to the sort of battery packs we'll be seeing in the likes of the Chevy Volt and Mini E. The company alas didn't reveal which car manufacturers will be using their new power packs.
Toshiba's plan to join Sanyo and Panasonic as one of the big boys of 'leccy vehicle battery production means shelling out ¥20m ($205m/£126m).
Incidentally, Cannondale Sports Group have announced that Toshiba's SCiB 24V/4.2Ah battery module will be installed in the Tailwind, its new electric bicycle to be sold under the Schwinn brand in North American and Europe.