This article is more than 1 year old
Apple MacBook Pro 15in
A powerful, professional piece of kit
Review The new MacBook Pro may not be the total revamp that the renewed MacBook is, but it's an attractive – and intriguing – update nonetheless.
The aluminium chassis has been slightly modified – curved edges similar to those of the MacBook Air make it marginally slimmer and give it a less rectangular look. The display's new glass covering runs across the full width and height of the lid, so there's no longer a metal bevel running around the edge of the screen.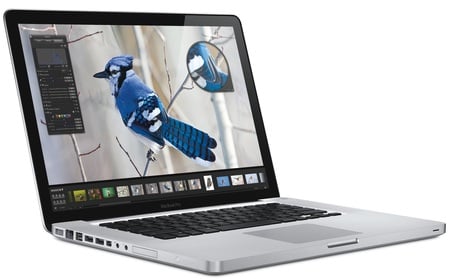 Apple's MacBook Pro: stylish new look
That makes the screen seems slightly larger, although it's actually the same 15.4in panel used in the previous model. For the most part, though, the new MacBook Pro doesn't look drastically different.
So the real challenge for Apple with this update was how to maintain – and justify – the price difference between the MacBook Pro and the new MacBook, given that the whole purpose of the redesigned MacBook was to make it more like the MacBook Pro.
There are two versions of the new MacBook Pro available. The first costs £1399 and comes with a 2.4GHz Intel Core 2 Duo processor, 3MB of L2 cache, 2GB of 1066MHz DDR 3 memory and a 250GB hard disk. We tested the second model, which costs £1749 and packs in a 2.53GHz processor, 6MB of L2 cache, 4GB of 1066MHz DDR 3 memory and a 320GB hard disk. Both HDDs are 5400rpm SATA units.

More slender
Both models have the same 15.4in, 1440 x 900 widescreen display, and the £1749 model can be further upgraded to a 2.8GHz processor for an extra £210, making it the most powerful laptop Apple has ever released. There's also an option for a 128GB solid-state drive, but at an extra £490 we doubt this will appeal to many people.