In space, nobody can hear you trying to reconcile your latent mother issues. Science is still working on that one.
Low Earth orbit is generally not the ideal place to seek treatment for depression or other psychosocial problems. On the other hand, cruising over Earth at speeds of 27,700km per hour in the freezing vacuum of space offers a pretty fine incentive for International Space Station astronauts to have an outlet to work out mental health issues that may arise.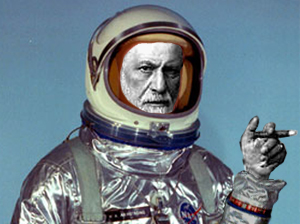 That's why scientists with the National Space Biomedical Research Institute (NSBRI) are developing an interactive, multi-media program they hope can assist in self-guided treatment for astronauts during longer spaceflights.
Staving off the space madness may one day be just a point and click away.
"While astronauts are not particularly prone to psychological problems, the environment is very demanding," said former astronaut and project co-developer, Jay Buckey. "On a mission, they face a lot of challenges that could lead to depression."
The system uses recorded video of a psychologist and graphics to guide a user through a bit of therapeutic troubleshooting. Researchers are calling this part "Problem-Solving Treatment."
Using Q&A, it first tries to identify causes for the astronaut's depression then helps set goals for possible solutions. The program also helps schedule enjoyable activities that those with depression often neglect.
Buckly and co-developer James Cartreine, a member of NSBRI's Neurobehavioral and Psychosocial Factors Team, say they've received input from 29 current and former astronauts while developing the system.
An early version was already beta-tested on isolated research stations like the polar desert of the Haughton Crater, used as an analog to extraterrestrial worlds. Cartreine said feedback was positive and last we checked nobody there had their head skewered by a co-worker's ice-pick. That's often a good sign.
Next up is a clinical evaluation on 68 Boston-area volunteers. For lack of folks with space-faring experience, the researchers said they'll settle on those with a job equally disassociated with life on Earth.
"We are looking for people who are similar to astronauts," Cartreine said, "such as people in the technology industry." ®