Alaska Senator Ted 'Series of Tubes' Stevens was convicted Monday on seven felony counts for lying about hundreds of thousands of dollars in free home renovations and other gifts from a wealthy oil contractor.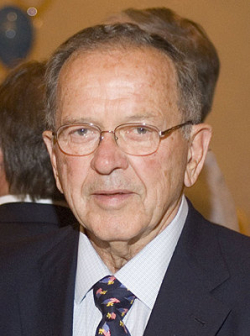 Alaska Republican Senator Ted Stevens
Federal jurors found Stevens, 84, guilty of falsifying his annual Senate financial disclosure reports to conceal items such as a $2,695 massage chair, a $1,000 sled dog, and over $250,000 in free home renovations provided by oil service contractor VECO Corp., which was lobbying Stevens at the time.
Stevens is the longest-serving Republican in the US Senate and is up for re-election next Tuesday. He is perhaps best known in the tech world, however, for a now-infamous metaphor used to criticize a proposed net neutrality amendment to a committee bill. Let's reminisce:
"Just the other day an Internet was sent by my staff at 10 o' clock in the morning on Friday – I got it yesterday [Tuesday]," he said as a part of his 11-minute speech. "Why? Because it got tangled up with all these things that are going on in the Internet commercially."
Stevens said he believed Internet-based businesses such as those that offer streaming videos were to blame for his own truant...Internet.
"They want to deliver vast amounts of information over the Internet. And again, the Internet is not something that you just dump something on. It's not a big truck. It's a series of tubes. And if you don't understand, those tubes can be filled and if they are filled, when you put your message in, it gets in line and it's going to be delayed by anyone that puts into that tube an enormous amounts of material."
Audio is available here.
Today, Republican presidential candidate John McCain said that Stevens should resign in the wake of his convictions.
"It is clear that Senator Stevens has broken his trust with the people and that he should now step down," McCain said in a statement. "I hope that my colleagues in the Senate will be spurred by these events to redouble their efforts to end this kind of corruption once and for all."
Stevens is presently asking supporters in Alaska to stand by him as he appeals the conviction.
"I will fight this unjust verdict with every ounce of energy I have," he said.
Stevens faces a maximum of 35 years in prison. But he's a Senator. So nobody is actually expecting any jail time. ®