This article is more than 1 year old
Plasma rocket space drive in key test milestone
Nuke tech could carry astronauts beyond Mars
NASA spinoff firm the Ad Astra Rocket Company has announced a key milestone in ground testing of its prototype plasma drive technology, Variable Specific Impulse Magnetoplasma Rocket (VASIMR).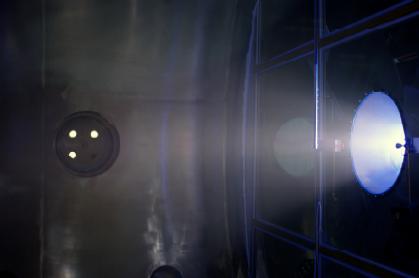 The electric rocket turns on.
The VASIMR "helicon first stage" - which generates the plasma for acceleration by the rest of the drive - has achieved its full rated power of 30 kilowatts using Argon propellant, according to the company. This paves the way for further trials in which in which the ion-cyclotron second stage will get to strut its stuff, boosting the helicon plasma stream to the target power of 200 kW.
The successful first-stage fire-up was a collaborative effort between Ad Astra and Nautel of Canada.
"We are elated with this achievement and exceptionally proud of the Ad Astra-Nautel team whose diligence and dedication made it possible, in spite of the disruption caused by the [recent] hurricane," said Franklin Chang Díaz, Ad Astra's chairman and CEO.
The idea of the plasma drives is to use electric power to blast reaction mass (in this case Argon) from its rocket nozzles at a much higher speed than regular chemical rockets can achieve. This means that the carrying spacecraft gets a lot more poke from a given amount of fuel, and so can make interplanetary journeys in much shorter times. Another potential application seen for VASIMR is maintaining the orbit of the international space station (ISS) without the need to burn large amounts of chemical rocket fuel.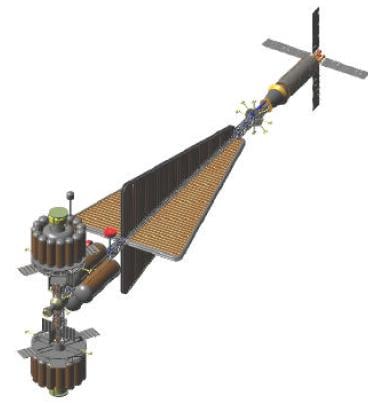 A concept VASIMR ship able to carry astronauts
to Callisto, ice moon of Jupiter
VASIMR is the brainchild of Mr Chang-Díaz, MIT plasma physicist and former NASA astronaut with seven Shuttle flights and 1600 hours in space. Chang-Díaz nowadays develops VASIMR at the Ad Astra Rocket Company. He believes that VASIMR - or some kind of more fuel-efficient propulsion, anyway - must be developed, or travel beyond Earth orbit will never become a serious activity.
For now, Ad Astra is in negotiations to put a VASIMR test unit aboard the ISS, to help in maintaining station orbit and simultaneously prove the plasma drive tech in space. NASA seems unwilling to find room for VASIMR on any of the remaining planned Shuttle flights to the ISS, but there have been hints that it might travel on a commercial-off-the-shelf lift (for instance aboard a Falcon rocket from Elon Musk's SpaceX venture) - if any of these actually come into service soon.
Presuming that Chang-Díaz can get his gear tested in space, and it performs to spec, VASIMR plasma drives could fill key roles in NASA's long-term push to the Moon and Mars. They don't have the power-to-weight ratio to be useful in reaching orbit, but once outside the atmosphere and furnished with a good supply of electricity they can leave chemical rockets choking in their superhot plasma exhaust.
Solar-powered VASIMR vessels, according to Chang-Díaz, would be very handy on the Earth-Moon run. Such ships would do less well on Martian voyages or still further from the Sun, but might still have a place.
Alternatively, if concerns over nuclear power could be assuaged, small dustbin-sized fission reactors of the type used in submarines could be employed. Chang-Díaz reckons that such a ship could do the Earth-Mars run in just 39 days.
In 2002, he wrote (pdf):
While a human Mars mission based on solar power is technically feasible, it is operationally fragile. Beyond Mars, the use of solar power for transporting and supporting human life would not be possible ... As their robotic precursors have done, future human interplanetary spacecraft will rely on nuclear power to explore the far reaches of the solar system and beyond.
If the human race is ever going beyond Mars, or ever going to see anything more of the universe than our own planetary backyard - if any of the more adventurous science fiction is ever going to become true - we're going to need nuclear power, it would seem. And lots of it. ®