This article is more than 1 year old
Intel, Asus plead with Web 2.0 for notebook of the future
'The world's first community-designed PCs'
Ever wonder who's going to invent the next big thing in computers? Just look in the mirror.
Of course, we're speaking about the fellow standing next to you. The world's just terribly unfair. But there's also a minute chance some tech innovation is rattling about your synaptic connections too.
Intel and Asus are betting on it with the launch of WePC.com, a site the companies hope will deliver the "world's first community-designed PCs."
Users are encouraged to share concepts and ideas about their dream box, be it notebook, netbook, or gaming notebook. There's a spot to draw and spec a computer design, or simply share an idea for one particular feature. Submissions are rated by other users – which in theory will cause the cream to rise to the top.
"Intel believes the spark for innovation can come from anywhere," said Mike Hoefflinger, general manager of Intel's Partner Marketing Group.
We'd like to agree, but the current low rating for El Reg's "Sharkbook Pro" mobile is making us feel somewhat pessimistic.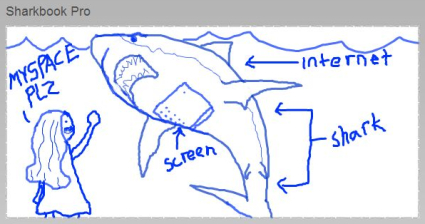 Should have used the Eee PC beach babe...
"By empowering WePC.com users to play a role in the design process, we expect to deliver cutting-edge community-designed products that address a consumer vision of a dream PC," said Lillian Lin, director of Asus marketing.
Alas, the site's terms of service gives Asus and Intel rights to all submitted materials. Be careful when sharing true genius, readers.
The users' cut will apparently manifest as prizes for select participants. The companies say details on what they'll be awarding will be announced at a later date. (Perhaps they need to launch WePrize.com?). Oh yes, there's the "empowerment" too.
The build-a-box workshop can be found right here. ®
Netbook Reviews
Apricot Picobook Pro
Advent 4213
Asus Eee PC 1000
Carphone Warehouse Webbook
Acer Aspire One