Sanyo intros 'iPhone-on-a-stick' home internet terminal
No need for netbooks now?
---
Japan's Sanyo is to offer locals an internet access terminal looks like a giant Jesus Phone on a stick.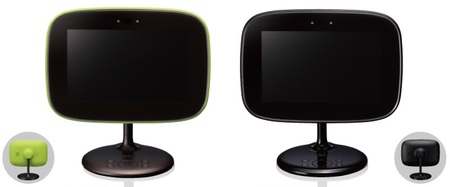 Sanyo's Albo: iPhone on a stick
Dubbed the "Albo Home Network Viewer", the unit's designed to connect to a home's Wi-Fi network and allow users to hop online and check email, run webcam sessions, send instant messages, monitor RSS feeds and so on.
The Albo's curvy black casing houses a 7in, 800 x 480 LCD - the same size as the screen on the original Eee PC - along with a 1W speaker, microphone and a webcam. There's an SD card slot for storing MP3, WAV and WMA audio files, and JPEG pictures. Pictures can be kept on the card or uploaded to Google's Picassa service, which the Albo can link to.
It even has an infrared port, so you can zap over snaps taken on your phone. Albo's USB port will allow them to be transmitted rather more quickly.

iPhone-style automatic screen adjustment
Like the iPhone, the Albo has a motion sensor. The screen rotates, with with display automatically reformatting itself according to the new orientation.
Unlike Apple's handset, the Home Network Viewer is based on Windows CE 5.0. It has 256MB of on-board memory.
It'll go on sale in Japan on 14 November for around ¥40,000 ($415/£259/€327).
Sanyo Albo Home Network Viewer Photo Gallery