Exclusive CherryPal's $249 cloud PC seems suspiciously close to vapor nowadays. But despite months of delay, CherryPal maintains its odd, 2-watt, ultra-cheap desktop will be ready to ship next week.
The question is how long it will stick around. According to an email from CEO Max Seybold, the startup is facing some major funding issues. Namely, there isn't any.
Today, Seybold sent a pre-Halloween email update to members of CherryPal's "Brand Angels" program - viz: compensated reviewers - with a tale of ill-fated funding and high adventure.
"We had a firm and binding funding agreement with a UK based African-born family," Seybold began. "Unfortunately they never followed through and left us high and dry."
Seybold next explains that the company turned to "angel investors" (rich folk) for an injection of capital. Seybold said the company already had seven "oral commitments" in place – but then the whole Wall Street meltdown thing happened and the investors bailed.
"In a nutshell, we need to raise funds ASAP," Seybold wrote.
CherryPal's eponymous PC first caught our eye for its intriguing concept of cramming all the hot technology buzzwords into a single box. "Cloud computing," "social networking," "green computing," – it's all right there in the brochure. The concept is a tiny computer with no moving parts running an ultra-low power chip from Freescale with 246MB memory and only 8GB solid-state capacity.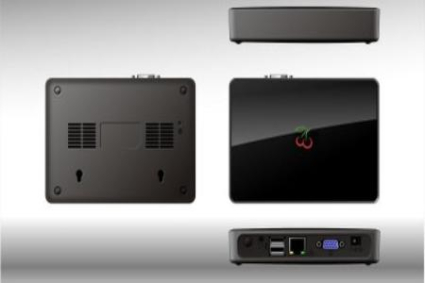 Applications, documents, music, and anything you would normally save to your hard drive is stored online through Amazon's S3 service. There's also supposed to be social network and file sharing aspect with fellow CherryPal owners too.
The online subscription will be free to users, but funded by advertisements that run when applications are loading.
We first reported on CherryPal back in July, with units supposedly ready to ship by the end of that month. Then came an announcement that a glitch with the system's graphics hardware would push back the release by "at least two weeks."
Two months later, CherryPal updated its shopping page to say the systems will ship on US election day, November 4. The company even changed the unit's model number from C100 to C114 to prove it, and doubled the system's flash drive capacity (originally at 4GB) for good measure.
Seybold even wrote in his email that the company is planning to announce a souped-up "Bing" version of the system after Thanksgiving. He claims performance tests indicate the Bing performs "much better" than a 9-inch Asus Eee PC. It's expected retail price is $299.
CherryPal also plans to launch an open source initiative with Freescale in about two weeks, dubbed "Maraschino."
Seybold wrote that Maraschino will consist of 10 sub-projects, starting with embedded Linux, browser optimization, and local and hosted applications. He described the scheme as "sort of a combination of Facebook and sourceforge.net." Seybold added that Freescale volunteered to supply free developer boards of the 5121e PowerPC processor for the project.
Ambitious plans indeed. But it needs money. As the worldwide economy melts around us, we can't help but wonder how many other startups are facing the same problem. ®