'Leccy Tech Ford appears to have come to the conclusion that the way to save the planet is to patronise its customers into compliance. That at least is the only conclusion we can draw from its new SmartGauge dashboard.
"SmartGauge with EcoGuide" instrument clusters will appear in the 2009 Ford Fusion and Mercury Milan hybrids.
Essentially a pair of hi-res colour LCD displays that site on either side of the speedometer, the SmartGuage is designed to inform and educate the driver about how to get the best from his or her hybrid.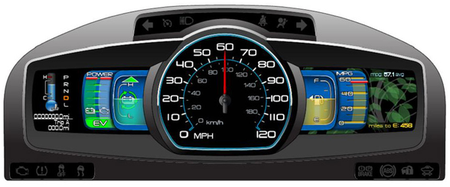 Ford's SmartGauge with EcoGuide: growing leaves and vines show how planet-protecting you are
Or, as Ford puts it, "inform, enlighten, engage and empower" the eco-conscious motorist.
Do well and you will be rewarded by a delicate tracery of "growing leaves and vines" appearing on the display to demonstrate how Gaia is burgeoning as a result of your considerate motoring.
"The driver is immediately engaged by the SmartGauge displays... with a special greeting that combines illumination and graphics," chirps the motor company.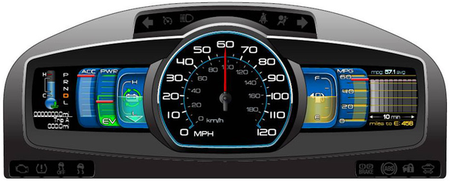 Also shows useful data
"A tutorial mode built into the display that helps the driver learn about the instrument cluster and the hybrid in a whimsical way that does not overpower," it added, whimsically.
So that's the 2008 award for the silliest idea to come out of the motoring industry taken care of...
More usefully, the screen provides a review of important information gleaned from your most recent journey, such as fuel economy, battery charge and comparative performance data from previous outings.
The good news? It doesn't seem likely that we will see SmartGauge on our side of the pond, and at least they didn't go the whole nine yards and fit the system with HUD to project an image of a weeping Al Gore onto the windscreen begging you to think about the planet.