Yes, Flash is expensive but this Super Talent Pico-C solid gold Flash bling thing is just ridiculous. For $599 you get 8GB of solid gold thumb drive.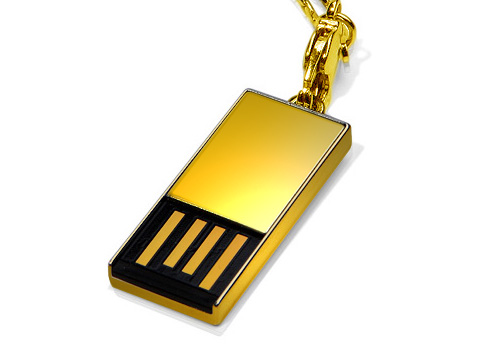 Super Talent's Pico-C 8GB USB thumb drive: solid gold
Oh, and an 18-carat gold key chain, encryption software and a black velvet-lined case. The kicker, for the prize bling nerds is a limited edition Serialised Certificate of Authenticity. For businesses that want to wade straight into deep recession-denial, the six hundred greenbacks includes their logo or some text - say 'I'm a dickhead' - laser-etched into the solid-gold surface.
It's the kind of flashy rubbish found in the pages of airline in-flight catalogues, along with the 24-hour wall clocks, titanium golf tees with GPS locator, and pet shampoo/conditioner dispensers.
Super Talent make speedy flash drives, but we think this one is going to move pretty slowly. At a time when you can get 8GB of Flash in your average store for around $35 or less - say $4/GB - Super Talent's marketing droids have come up with flash priced at $75/GB.
Super talented? What do you think?