Intel will release details of its 32nm chip fabrication technology in just over a month's time. But AMD will be on hand to talk up its 22nm process.
Representatives from the chip giant will be presenting a paper at the IEEE International Electron Devices Meeting (IEDM), which kicks off in San Francisco on 15 December. They will discuss how they produced a 291Mb SRam memory array to test the process, which uses high-k and metal gate technologies. It has a density of 0.171μm², EE Times reports.
But we can add that Intel won't be the only chip maker detailing its progress to the 32nm node. Semiconductor foundry TSMC will be present to discuss its 32nm 2Mb SRam chip, while IBM boffins will be presenting its 0.157μm² 32nm SRam cell.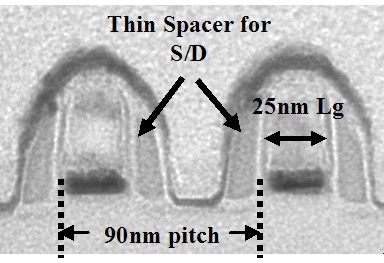 AMD and IBM's smallest functional SRam cell up close
IBM will also be partnering with AMD to present what they claim is the "smallest functional SRam cell ever made" - a 22nm high-k and metal gate part with a cell density of 0.1μm²
Static Ram cells are the structures chip makers always build first when testing a new fabrication process.
Intel has already said its first 32nm processors, codenamed 'Westmere', will debut in late 2009. They will be die-shrink versions of its new microarchitecture, 'Nehalem', which is due to debut later this quarter.