This article is more than 1 year old
Group Test: Universal Remote Controls
Why take ten remotes into the living room?
Round-up The idea of a single 'universal' remote control that will control your TV, cable or satellite box, music system, DVD player and any other device you happen to have cluttering up your front room has obvious attractions. Instead of scouring the living room to locate three of four different remotes, you can just press one button to turn everything on and start watching TV, play a DVD, or listen to music straight away.
So, to see if these universal controls fulfilled their promise, we tested a number of them with a selection of audio and video devices produced by a variety of different manufacturers. Most of these controls are pre-programmed with several sets of signal 'codes' that are used by different manufacturers. So, to control our Samsung TV, we could simply enter the manufacturer's name and model number so that the remote knows which codes to use.
The problem arises when you have a device, such as our new Pioneer Blu-Ray player, for which the universal control doesn't have a suitable code already programmed in. So the real test for these devices is how easily they can be updated or 'trained' to work with unfamiliar devices.
OneForAll Kameleon 5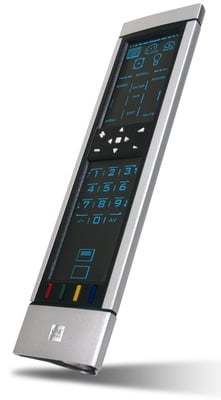 The Kameleon is something of an oddity. It looks like it has touch-screen control system similar to that of Logitech's Harmony 1000 (see below), but in fact the 'screen' is simply a plastic membrane laid over a fairly conventional set of buttons. A backlight shines through the membrane and illuminates each individual button, but it actually works and feels just like the other remotes from OneForAll, reducing the 'screen' effect to something of a gimmick.
The Kameleon controls five devices and, like the other universal remotes from OneForAll, it can quickly be programmed using the manufacturer codes printed in the manual. This meant that we were able to set it up to control our Samsung TV, Denon CD, and Sky+ box in no time at all but, once again, there was no code for the recently-released Pioneer Blu-Ray player. There is an option for updating the remote control by sending a signal down your 'phone line but that didn't seem to work for us, so once again we had to laboriously 'train' the Kameleon to control the Pioneer box ourselves.
Reg Rating 70%
Price £40 Compare Prices
More Info OneForAll
Logitech Harmony 1000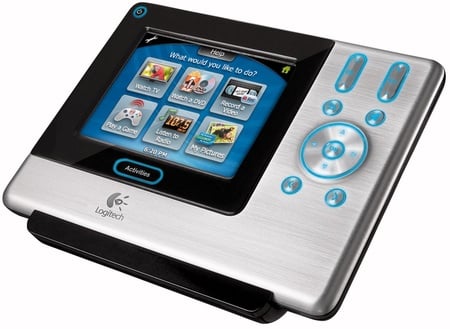 The Harmony 1000 is Logitech's top-of-the-range model, costing a fairly hefty £279. The price is explained by the 3.5in touch-sensitive colour screen that replaces the baffling array of buttons used by most remote controls.
It can control up to 15 different devices and, like the Harmony 525 (see below), is set up by connecting it to the Internet via a USB connection to your Mac or PC. This was a bit of a chore, but it was worth it as Logitech's online database did allow us to quickly update the Harmony so that it could control our new Pioneer Blu-Ray player.
And, once it's set up properly, the Harmony's touch-screen control system works very well. Select a device, such as your TV, and the screen will display just the controls needed for that device. You can also set up 'activities' that allow you to control multiple devices simultaneously, such as the TV and DVD player for watching movies. Admittedly, the touch-screen is an expensive luxury – and needs two hands to hold – but it works well and will certainly impress your friends when they come round for Christmas dinner.
Reg Rating 70%
Price £279 Compare Prices
More Info Logitech
Next page:

Sony RM-VL600T