This article is more than 1 year old
Open-source Silverlight slips into second gear
Closing gap on Microsoft?
PDC The open-source edition of Silverlight could soon have feature parity with the latest, official release of Microsoft's browser-based media player.
Organizers of the Moonlight project have said they are planning to deliver preview code for Moonlight version two next March that'll map to the latest release of Microsoft's Silverlight. The preview is due at Microsoft's annual Mix conference in Las Vegas, Nevada, in March.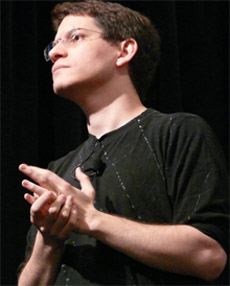 de Icaza: keen for Mono extensions in .NET
That should be less than six months after they deliver the very first implementation of Moonlight, expected soon and modeled on Silverlight 1.0. Microsoft this month delivered Silverlight 2.0 with some important and long-awaited changes.
The Moonlight team will likely be assisted by Microsoft's recent decision to publish portions of Silverlight under terms friendly to open source developers. This means Moonlight engineers do not have to build their own versions of portions of Microsoft's offering from scratch, as Silverlight is not open source and doesn't look like it'll be going open source, according to Microsoft's chief software architect Ray Ozzie.
Microsoft said it will release the Silverlight Control Pack (SCP) under the Microsoft Public License (MS-PL) and publish the technical specification for the Silverlight XAML vocabulary. Both moves are precisely intended to help third parties build products that work with, or like, Silverlight.
Moonlight lead developer Miguel de Icaza said Microsoft is seeding the market by releasing its code via MS-PL. He said he planned to take advantage of such releases by Microsoft.
Moonlight has also benefited from Microsoft's engineering input and media work as a result of the relationship between Microsoft and Novell - the chief sponsor of Mono and Moonlight.
The pressure is certainly on Moonlight and expectations will be high.
Microsoft delivered Silverlight 1.0 in just five months versus the nineteen it looks like it will have taken to finish Moonlight 1.0. Silverlight 2.0 came just over a year after the first version. If Moonlight is to stand a chance of success among potential developers and users it's important it doesn't fall behind Silverlight in features or timing. That's even more important given Silverlight itself is still new and largely seeing experimental adoption. That means there's still much for both sides to play for as neither has an established market advantage.
Bootnote
De Icaza said he'd like .NET to adopt some of the techniques that have been devised for his open-source project that implements Microsoft's Common Language Infrastructure (CLI) and C#, called the Mono Project.
He called out the Single Instruction, Multiple Data (SIMD) instructions for data parallelism, virtual machine attach API and C# evaluator as candidates for inclusion. Inclusion in .NET would mean the extensions become part of the CLI and C# standard, and theoretically enable developers working on .NET or Mono to easily switch between them when building code as well as making applications run on both with fewer tweaks.
He also, separately, promised a Mono plug-in to Microsoft's Visual Studio with an Alpha due in late January. ®