USA '08 If the US voters reporting flipped votes in early balloting for the US Presidential race think they have it bad, they haven't heard of Homer Simpson's plight.
In this Sunday's episode of The Simpsons, the lovable loser enters a voting booth for this year's presidential election and is surprised to find a touch-screen machine. "Ooh, one of those electronic voting dealies," he says with glee. But after casting his ballot for Democratic candidate Barack Obama, Simpson is shocked to hear the machine reply, "One vote for McCain. Thank you."
"No, I want to vote for Obama," Simpson replies. As the increasingly frustrated fat man repeatedly presses the Obama portion of the touch screen, the machine responds: "Two votes for McCain," then "three votes for McCain" and finally "Six votes for President McCain."
After Simpson roughs up the machine and declares it rigged, a bottom compartment opens and sucks him into it. Bloodied and unconscious, Simpson is eventually spit back out.
The parody, which is already available online, just goes to show how deep distrust of electronic voting has seeped into the American psyche. It comes amid a flurry of warnings about computerized voting systems that can cause votes to be lost or miscounted because of malfunctions. The reports include: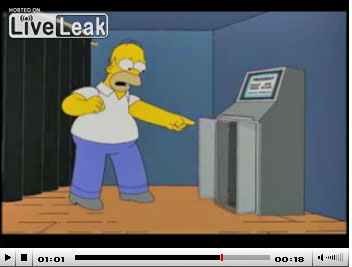 A letter from the Brennan Center for Justice and Verified Voting to 16 secretaries of state advising them of a problem in Election Systems & Software's iVotronic machine that caused votes for one candidate to be recorded as a vote for the candidate's rival.
A separate letter from the same two groups to state elections officials warning of problems in Global Election Management System (GEMS), made by Premier Election Solutions. In August, the company formerly known as Diebold copped to a decade-old bug that can cause votes to be dropped. According to Wired.com, the letter urges elections officials to follow rigorous procedures to guard against the snafu.
A 158-page report (PDF) by scientists from Princeton University warning of serious deficiencies in the AVC Advantage 9.00H touch-screen voting machine made by Sequoia Voting systems.
Your voting machine won't eat you. But it may eat your vote. ®