This article is more than 1 year old
Hubble back in full snapping mode
Returns fetching first image from main camera
The Hubble space telescope yesterday resumed "regular science operations" following the failure of the 'scope's operational Science Instrument Command and Data Handling unit (SIC&DH) back in September and susbsequent coaxing into life of the back-up unit (more details here).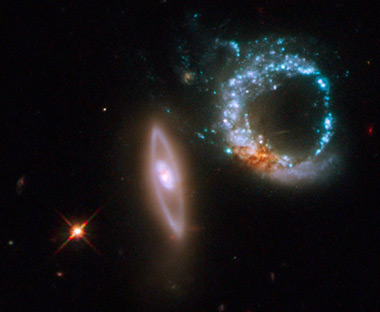 NASA yesterday released the first snap from the Wide Field Planetary Camera 2, which on 27-28 October captured this fetching portrait of "a pair of gravitationally interacting galaxies" dubbed Arp 147.
The agency explains: "The blue ring was most probably formed after the galaxy on the left passed through the galaxy on the right. Just as a pebble thrown into a pond creates an outwardly moving circular wave, a propagating ring of higher density was generated at the point of impact. As this excess density collided with outer material that was moving inward due to the gravitational pull of the two galaxies, shocks and dense gas were produced, stimulating star formation."
While everything appears to be back to normal up on Hubble, the knock-on effect of the SIC&DH failure is that NASA has once again been obliged to postpone the launch date of space shuttle Atlantis STS-125 mission - the final servicing gig to the venerable eye in the sky
Atlantis was due to blast off back in October, but the SIC&DH saga prompted NASA to delay the mission while it booted up the back-up system.
Now, NASA reports it won't be able to meet the revised February 2009 launch date, since it need more time to prepare a new second data handling unit to replace the failed kit. NASA's Astrophysics Division Director, Jon Morse, explained: "We now have done enough analysis of all the things that need to happen with the flight spare unit to know that we cannot be ready for a February launch.
"The February date was an initial estimate, assuming minimal hardware preparations and test durations that are no longer viewed as realistic. We've communicated our assessment to the Space Shuttle Program so it can adjust near-term plans. We will work closely with the Shuttle Program to develop details for a new launch opportunity."
Fans of vintage computer kit will be pleased to learn that the replacement SIC&DH is the same as those currently aboard Hubble. NASA explains: "The Hubble flight spare...has been at Goddard since it was originally delivered as a back-up system in 1991. The unit currently is undergoing testing and examination to identify and correct any problems. That work will continue until mid-December.
"The unit will then undergo environmental assessments that include electro-magnetic interference checks, vibration tests, and extended time in a thermal vacuum chamber. Environmental testing is anticipated to run from mid-December to early March 2009. Final testing will be conducted on the unit, and delivery to NASA's Kennedy Space Center in Florida is expected in early April."
Hubble Program Manager Preston Burch said: "The equipment we are dealing with has a flight-proven design. The original unit on Hubble ran for more than 18 years. We have a lot of spare parts if we encounter problems, and we have most of the same test equipment that was used with the original unit. We also have a lot of experience on our Hubble electrical replica, which uses the engineering model data handling unit." ®