Obama leads McCain on pre-teen virtual battleground
Love and patriotism shared
---
USA '08 Democrat presidential candidate Barack Obama is the leading choice for BFF among pre-teen kids following the US presidential elections.
More than 38 per cent of those aged between three and 12 have befriended an avatar of Obama's created on kid-friendly web service KidZui. Obama leads the avatar of Republican John McCain befriended by 25.7 per cent of poppets - a reflection of polling trends among those eligible to vote. KidZui claims "hundreds of thousands" of users of its online service.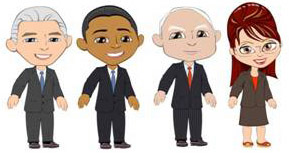 Be Best Friends Forever - share with your avatar
When it comes to Veep, everyone's favorite moose-huntin' Alaskan, Sarah Palin, beat Obama's running mate Joe Biden by 21.5 per cent to 14.4 per cent. Funnily, that's almost the same number of people who think Palin is qualified to be a vice president.
In a possible indication of how far political talking points can corrupt the minds of the innocent, kids have also been sharing online content with the candidates' avatars.
The avatar of Vietnam war veteran McCain has been getting the US flag and music videos by country music singer Taylor Swift. Well, nothing says patriot like country. Obama's been getting videos and pictures of Martin Luther King Jr, and videos and pictures of sunsets and [huh? - Ed]- NASA space ships.
Kids are sharing online wardrobe games with Sarah Palin, but not - it seems - pictures of the kinds of cute little animals that generally make for good target practice.
The befriend a candidate feature was created by KidZui, an online service for safe browsing of the internet by kids, on October 13. Kidzui offers a collection of 500,000 pre-screened web sites, pictures, and videos to provide safe web browsing. ®