Hitachi UT32MH70 32in LCD TV
Only 39mm thick? You'd better believe it
---
Before you worry that you won't be able to watch any broadcast programmes unless you have Freeview, Freesat or Sky set-top box, Hitachi has begun offering the external tuner box for free, and quite rightly too. Indeed, we've held off reviewing this set until now, until the free tuner became available.
But back the screen itself. The frame is simple enough – glossy and bevelled at the edges. It's smart and attractive without being intrusive. The curved silver stand underneath will be more divisive – it's noticeably cheaper-looking than the rest of the screen. The remote, however, is just not striking. A basic, black, plastic slab with silver circle in the middle. It looks more like a replacement remote rather than the sort you'd expect with a classy screen like this.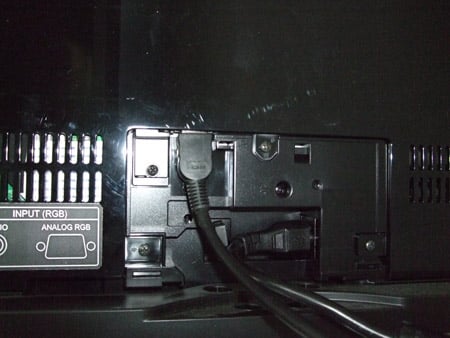 For more connectivity than the TV alone provides, you'll need the separate tuner box
As a result, you feel you only want to turn the volume up and down with the remote, change a setting or two, maybe, but otherwise use the remote for the input signal to do everything else. Enough already, it's the image on screen that matters with TV, as we'll see.
As you'll guess from such a basic remote, this TV's not exactly overflowing with features. Press the Menu key and the only changeable value in the set-up sub-menu is to turn the video power-saving on and off.
Others, such as RGB input and colour system are greyed out because without the tuner box, everything is handled automatically by the HDMI circuitry. So without the tuner, it's pretty easy to operate and once you've flicked through the Dynamic, Cinema and Natural picture modes or fiddled with the colour temperature a few times, you'll have had enough of the settings.
The HDMI and power cable ease into the main socket area at the back of the screen. Other than that, it's all pretty sparse: tucked away to the left are an analogue audio input and an RS232 computer connection. For more than this you need the optional tuner box. And that tuner box, given that it's free, is pretty spectacular. There are two digital tuners, three HDMI inputs which feed through to the single socket in the TV. Plus one Scart connector and a USB port. It's styled to match the slim look of the screen and it has a 250GB hard drive inside as well.