Hitachi UT32MH70 32in LCD TV
Only 39mm thick? You'd better believe it
---
It's strange that a TV like this, which is all about the look, isn't a full HD screen. It manages just 1366 x 768 resolution for 720p support - 1080i and 1080p content is suitably downscaled. Most 32-inchers are sub-1080 like this one, of course, but this would have been a great place to raise the bar. As a result the image is crisp and clean, sharp and colourful but not mind-blowing. BBC HD's programming looks as gorgeous as ever, but the 1080p richness of Blu-ray content isn't quite as spectacular as full HD would make it.
Contrast is immaculate, though, and the Proms, taped inside the murky Royal Albert Hall shown again in the BBC HD Preview loop manage reasonably deep blacks. Nigel Kennedy's shiny black jacket - as he sweats furiously and frenetically plays his violin - looks rich and attractive.
The Spiderwick Chronicles, viewed in HD on Virgin's V+ on-demand service, didn't quite have the full detail in dark shadows one would hope for, but there's still plenty of richness.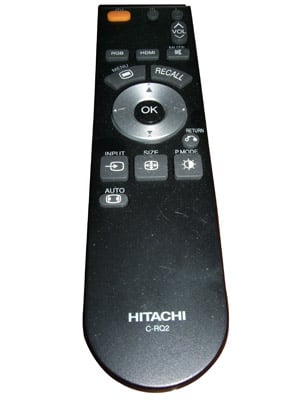 The remote is just a black plastic slab
The inevitable sepia of flashback scenes is well handled: warm and variegated. Even so, it's not as good at blacks as, say, the Philips Amblight Cineos 42PFL9603D and in brighter scenes the black top and bottom bars created by widescreen look decidedly grey. Fast motion is handled well, though, with no trace of smear or blurring in the busiest, most action-packed moments.
Verdict
If you need a new TV for the living room and you want to make a design statement, this is a subtle way to do so. It's true, you do keep catching sight of the frame's thinness and it's impressive. Go back to a regular-depth flatscreen and you'll really notice the difference – not as striking as when you switched from a traditional tube TV, but still a significant change.
Of course, for a 32in screen that doesn't have full HD resolution, you could argue you're paying a bit of a premium for this. The picture quality is certainly as good as you might expect from any screen of this size and resolution. But it's not outstanding, so you might be tempted by a full HD TV instead: Samsung has three such 32in models, which all cost less than £600. This model has already come down in cost, but it's still pricey. The addition of the hard-drive tuner box, available free by redeeming a voucher, goes some way to redressing this.

Hitachi UT32MH70 32in LCD TV
If the sight of a super-slim TV floats your boat, the Hitachi is an impressive screen, but its picture quality isn't as eye-catching as its dimensions.