This article is more than 1 year old
3M MPro110 handheld projector
Palm-sized and ready for business
Review In the spotlight at the Consumer Electronics Show this year was 3M's Mobile Projection Engine, a tiny projector - the vision is that we'll all have one embedded in our mobile phones etc.
Such products have yet to see the light of day, but the next best thing has: the 3M MPro110 portable projector.
About the size of a chocolate bar and 22mm thick, the 3M MPro110 features both composite-video and VGA inputs. It's the VGA addition that earns it the 'Pro' moniker. The picture comes from a tiny LCoS (liquid crystal on silicon) panel inside the machine.
Sitting comfortably in the hand, it's reassuringly weighty, with the ribbed metal casing acting as a heat sink, aided by numerous vents in strategic places. The underside has a tripod mount and battery cover, which needs a screw removing to open it up. Given its lithium-ion battery lasts about 50 minutes, a spare seems prudent, but what a hassle if you forget your Philips screwdriver.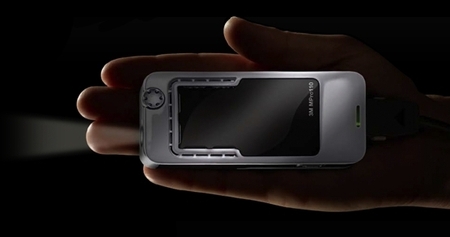 3M's MPro110: palm-a-light
With the DC charger input on the right side, the on/off switch on the left and the video inputs at the bottom, the only control function on this device is the focusing wheel at the front. This cog-driven mechanism simply slides the lens backwards and forwards in its enclosure. It seems a little crude in its action but is, nonetheless, effective.
Indeed, you can experiment with the focusing before plugging anything in. Turn it on, the battery indicator LED springs to life and five seconds later the projector kicks in, displaying a 3M logo in its native 640 x 480 resolution. Untethered to a camera or laptop, using it this way, while rather dull, soon gives you an impression of the focusing limitations and ambient light conditions required to get a decent image at the size you're aiming for.