Cloud idealist turns realist on platform portability
If only there was a scheduling app
Dreamforce 2008 In the vexed world of interoperability, Salesforce.com is treading a line between pragmatism and idealism.
Chief executive Marc Benioff said he'd love to see a standard for interoperability on moving packages between applications in rival clouds and for remote procedure calls (RPCs).
That could allow more applications hosted in Amazon, Facebook, and Salesforce.com to talk to each other's APIs and libraries. This potentially builds on Monday's news for a set of tool kits that let applications built using Salesforce.com's Apex programming language to talk to applications in Amazon and Facebook.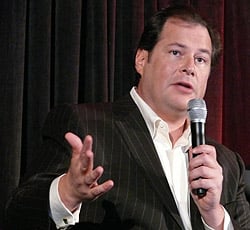 Benioff: called for honesty on platform lock in
The "only" thing holding up such interoperability is the logistical work of getting different parties together, Benioff reckoned. He told press and analysts Monday there'd already been discussions inside Salesforce.com on potential interoperability.
"We've talked a lot about it internally," Benioff said. "We'd love to do something like that, but it's an execution issue...It's hard to get everyone in the same room."
Talking to The Reg afterwards, Benioff indicated we should expect "something" but gave no details.
Portability at a platform level - and the ability for Salesforce.com customers to pick up their data and pack it off to a rival host - is a different matter.
Benioff called platform lock an inevitable part of the industry and said vendors should be more honest. Customers know that when they pick Salesforce.com, they are making a "strategic relationship," he said. In that regard, it's no different to what's been happening for decades with Microsoft, Oracle, and IBM.
"Our job is to make sure they've chosen our platform and not the other platform, because once they have it's usually impossible to get them off of it," he told Tim Anderson for The Register during Q&A.
Also out is the ability for anyone other than Salesforce.com to host customer data. Benioff said Salesforce.com is investigating two new data centers in Europe and Japan, adding to the two in the US and one under construction in Singapore. Salesforce.com will not start up a business letting others run these or its customers' data, he said.
"We run our own data centers and it's our core competency," he said. "Customers expect a certain level of performance."
That aside, Benioff said the cloud - be it Salesforce.com or Amazon - and alliances between providers offer developers more freedom and interoperability than proposed services from Microsoft. That company last week unveiled Azure Computing Services, which Benioff called a continuation of Microsoft's old philosophy of pushing people to buy more Microsoft software. There's no date yet for when Azure will launch.
Microsoft's way, or the highway
It's early days on Azure, but Microsoft has said it'll include a version of its database and will ultimately include its business applications - something that's a long way off.
"Developers are coming from Microsoft land because they don't want to be in a black room anymore," Benioff said. He claimed Microsoft had used all the right words to announce Azure such as infrastructure, application services and business services but the message was: "Just keep using our software - SQL Server and Visual Studio - and we will run it on the cloud some day.
"We are reaching out to Google, Amazon and Facebook - we are reaching out to other players. We can't do it all, we don't want to it all, but we should integrate and interoperate between multiple clouds," Benioff said. "We have to get away from that Microsoft philosophy." ®