Zoombak Universal portable A-GPS locator
You need never lose anything ever again
Review The Zoombak personal GPS locator is designed to be used for a wide range of applications, whether it's keeping an eye on an elderly relative, a teenage driver, a bike or even your dog.
Zoombak comes in three different flavours: there's a dog locator, complete with a pouch that clips onto the dog collar; a car locator that includes an installation kit a 12V charger; and a universal locator which, as the name suggests, can be used for locating a wide variety of objects/animals/persons. We tested the latter.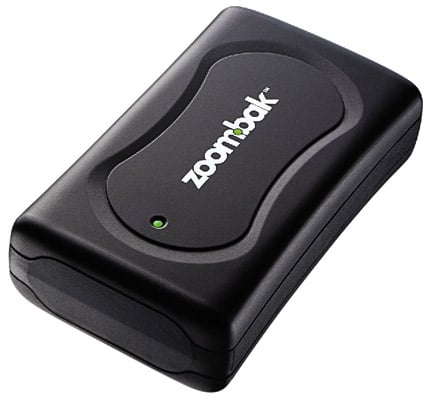 Zoombak's portable locator: matchbox sized
The locator is a small black box about the size of a largish matchbox. It's made of hard plastic, water resistant and claimed to be able to operate at extremes of temperature. There's really not much to the Zoombak, save a small rubber button for switching it on and off, and a rubber lug that hides the battery charging port. When the Zoombak is operating, a small green light flashes on and off at the front. The light turns to amber when the battery power is running low.
Zoombak uses an assisted GPS (A-GPS) system. This utilises a series of servers to help improve location speed and accuracy. Zoombak says that accuracy is between five and 25 metres, and coverage is UK-wide. Inside the Zoombak is a SIM card which works with Vodafone's GPRS network, and a lithium-ion battery. Sadly, Zoombak has opted for the Apple iPod approach to battery replacement: you have to take the device to an authorised dealer to get a new one put in.
The idea behind Zombak is that you put the locator on or in the object you want to keep tabs on. Then, when you want to find its location, you can either log onto the Zoombak website, send a text request from your mobile phone or call Zoombak's 24x6 customer service line. What it's not designed to be is a kind of bug that tracks something continuously, 24 hours a day.