World of Warcraft creator Blizzard Entertainment's lawsuit against MDY Industries is getting a little dose of bat-shit insane before the case rolls to trial.
The legal sideshow comes courtesy of the famously litigious inmate Jonathan Lee Riches, who accuses Blizzard's popular online game - in a hand-written legal filing (PDF) - of causing him to commit federal crimes. Tip o' the hat to the law blog Virtually Blind for spotting the motion.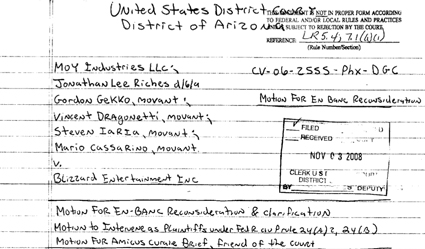 "World of Warcraft caused Riches mind to live in a virtual universe, where Riches explored the landscape committing identity theft and fighting cyber monster rival hacker gangs," the filing asserts.
"Riches was addicted to video games and lost touch with reality because of defendants. This caused Riches to commit fraud to buy defendant's video games."
He adds that he chose World of Warcraft over "working a legit job" and that his "mind became a living video game."
The motion was filed as an amicus brief, which lets someone who's not a party in a case volunteer information to aide the decision.
For perspective, Riches - who is in a South Carolina prison until 2012 for wire fraud - has filed over 1,500 complaints about celebrities, CEOs, businesses, and inanimate objects nationwide. Georgia legal news site Fulton County Daily Report wrote back in March that 39 per cent of cases filed that month in US District Court for the Northern District of Georgia were filed by Riches.
Riches' greatest court-clogging hits include lawsuits against Cyndi Lauper, Justin Timberlake, Starbucks Coffee, Ben Affleck, John McCain, NASA, Bill Gates, the US Postal Service, David Beckham, Steve Jobs, eBay, the Sundance Film Festival, Amazon.com, Paul McCartney, McDonald's, Barack Obama, Jennifer Lopez, Norwegian Cruise Lines, Jack Kevorkian, FEMA, Guantanamo Bay, Visa, Yahoo!, Rush Limbaugh, Reese Witherspoon, the International Olympic Committee, Britney Spears, and Dick Clark's New Year Rockin' Eve 2008.
Riches' 2007 complaint against Steve Jobs and OJ Simpson accuses Apple's CEO of secretly planning to release Simpson from jail in order to "radio wave warp" away from his home because he's in possession of old OJ football cards.
His 2007 complaint against the US holiday of Thanksgiving names as defendants "Pilgrims, Mayflower Movers, Pilgrim's Pride, Turkey Hill, Black Friday and Cleveland Indians."
We're sure the Arizona court will give Riches' motion all the careful consideration it deserves. ®
Similar topics