'Leccy Tech Grab your shotgun, a six-pack and smell-hound because a 400+ bhp electric version of Ford's F-150 pick-up has been unveiled at the 2008 Speciality Equipment Market Association (SEMA) show in Las Vegas.
The project is a collaboration between Ford and British company PML-Flightlink and is powered by PML's Hi-Pa Drive system, which puts a 100+ bhp electric motor in each wheel. The whole thing is driven by a 40kWh battery pack that sits under the chassis, and includes a generator to recapture and convert kinetic energy during braking.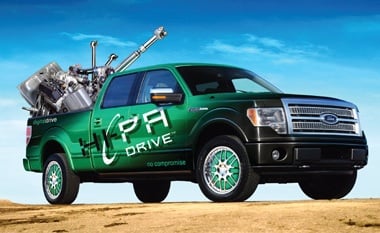 Ford's F-150: American pick-up, British motor tech
Each 30kg motor also delivers 150lb-ft of torque from idle making it more powerful than the planet-bashing 320bhp 5.4l V8 version of the pick-up it's based on. Yee-hah.
Driver options include the ability to control each wheel motor independently or to synchronise all four wheel-drives together - if effect an electric crawler gear.
According to PML, the Hi-Pa 150 will have a range of 100 miles on a full charge. Of course, by fitting the motors on the wheels, the 'leccy 150 dispenses with the engine, fuel tank and entire drive-train of the original vehicle so fitting a larger battery pack shouldn't be a major issue.
This isn't the Ford group's first dalliance with Hi-Pa Drive. The system appeared on the Volvo ReCharge - a hybrid version of the C30 – which was shown as the 2008 Paris Motor Show last month. If the electric 150 ever sees the light of day as a production model, we suspect it will be as a ReCharge-like hybrid rather than the pure 'leccy vehicle shown in Vegas.
Craig Knight, PML's CEO, said: "This revolutionary truck proves that a vehicle does not have to be small, unprofitable or underpowered to be green." Amen to that.