Orange has taken exclusive delivery of LG's latest talker: a stylish clamshell device with two screens.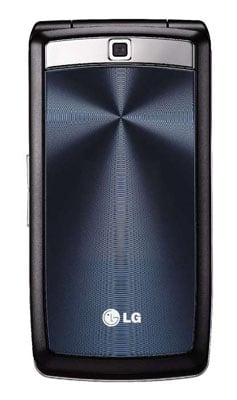 LG's KF300 has a second screen in the middle there, somewhere, we're told
Underneath the KF300's internal 2.2in display is a series of hotkeys that'll take you directly to frequently used features, including the phonebook and text message folder.
A second smaller screen, although barely visible in the images, is also built into the outside of the lid. This is used for displaying incoming call details and text messages.
If your eyesight's starting to go then this phone could be ideal for you, because the font size on the internal screen can be adjusted for anyone that likes to supersize text.
Although the phone only has a 14MB internal memory, users can slot Micro SD memory cards of up to 2GB into the phone. This should come in handy for storing MP3s, which can also be played on the phone, or images snapped on the two-megapixel camera.
Connectivity wise, users are supported over tri-band GSM and Edge. Bluetooth's also on board for short-range data transfers. Talk time is around 3.3 hours and standby life is set at 200 hours, LG claims.
LG's KF300 is available now for free on an Orange £15-a-month contract.