The US military has ordered a further 180 hovering ducted-fan spyeye robots, renowned for their ability to operate in tight places and "stare" through windows at will.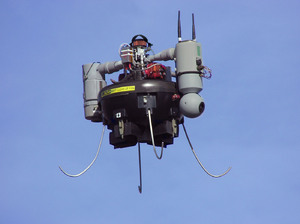 The latest in "hover & stare" - now with moving eyes
US manufacturer Honeywell announced the order yesterday, saying that it had been awarded a $65m Pentagon contract for more of its Micro Air vehicles (MAVs) - now rebranded "T-Hawk™", apparently for Tarantula Hawk, a type of New Mexico wasp which eats Tarantulas. The MAV was developed in New Mexico.
The little petrol-powered hoverbots are just over a foot across and weigh only 17 pounds, small enough to be carried in a backpack. They can stay up for 40 minutes, cruise at 45 mph and climb to 7,000 feet or more - all while streaming live video back to the operator. The latest feature is a gimbaled (pan-tilt) camera - with earlier MAVs the operator had to turn the vehicle to look in different directions.
"Honeywell has unsurpassed experience in developing ducted-fan vertical takeoff and landing unmanned air vehicles," said Honeywell defence honcho Ed Wheeler.
"Our highly precise controls allow the T-Hawk™ to operate at very high altitudes or just inches from the ground, providing unprecedented hover and stare capabilities for enemy detection or other missions in war zones."
MAVs have already been tried out in Iraq by US bomb-disposal squads, and are also in testing with the Miami-Dade police department in Florida, who think they could replace police helicopters in some surveillance roles.
The little hoverdroid is apparently easy to operate, and the ground control station can be used to fly the machine manually or programmed to let it navigate a waypoint route hands-off.
The T-Hawk's main weaknesses are noise and limited payload. Cameras are pretty much all it can carry, at least for now - one does note that Honeywell describe it as "scalable". ®
Similar topics