America Saved Barack Obama has defeated John McCain to become the next president of the United States and the first African-American to hold the highest office in the land.
At 8pm west coast time, as the polls closed in California, the country's major television networks projected that Obama would win the 270 electoral votes needed for victory. Within minutes, McCain conceded the election with a speech from his home state of Arizona.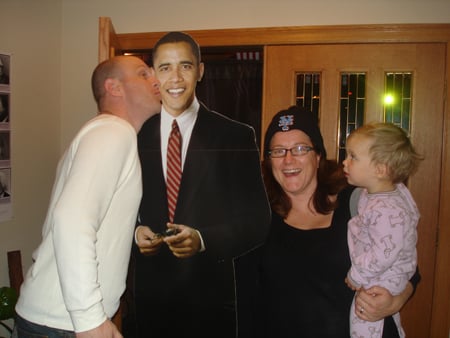 Obama with atypical American family
"The American people have spoken, and they have spoken clearly," McCain said. "This is an historic election, and I recognize the special significance it has for African-Americans and for the special pride that must be theirs tonight."
Then he called his Republican running mate, Sarah Palin, "one of the best campaigners I've ever seen" and "an impressive new voice in our party."
Palin stood beside him, but did not speak.
At 9pm west coast time, Barack Obama addressed supporters in his home city of Chicago. "If there is anyone out there who still wonders if America is a place where all things are possible, who still wonders if the dream of our founders is alive in our time," he said, "tonight is your answer." ®