Japan's Oki has developed an office chair that, it claims, can jump. And we thought all they were good for is spinning around and skating along on the casters.
Oki's chair, curiously codenamed 'Leopard', employs what the company's boffins call a "robot leg", with the bit for your bum equivalent to the thigh. The calf, ankle and foot form the stand on which the seat rests.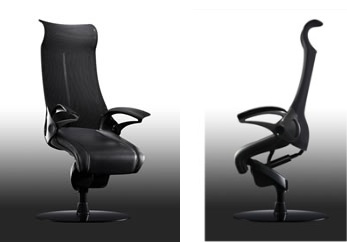 Oki's 'Leopard': the leaping chair
Oki's pitch is that the design makes the contraption actively help you stand up and makes sitting down more comfortable too. Empty, the chair's seat is angled upward so you don't have to bend down as far as you would with a standard chair. As you descend, the seat and back move in harmony with your own seat and back.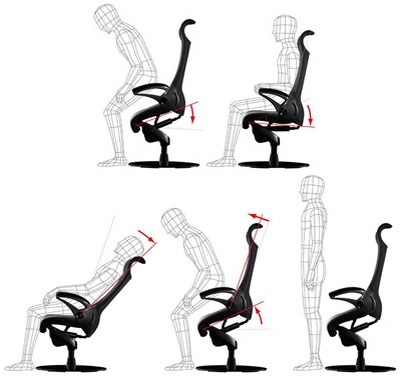 Standing up or sitting down, help is at haunch
The robotic leg follows the movement of the user's own limbs as he or she gets up, propelling the posterior with its spring-made muscles.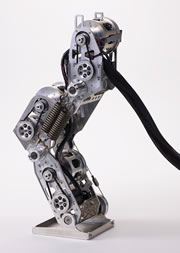 Oki's original robot leg: yes it can jump, but it's not likely to win an arse-kicking contest
The chair - ahem - springs from Oki's work on robotics, specifically the development of a robot leg with an artificial musculature that mimics a human's leg muscles. Oki's leg can not only jump on its own but land without falling over.
Oki's original artificial leg could be kitted out with motors and was capable of jumping. Alas, the company hasn't seen fit to equip Leopard with said engineering - though the codename suggests its boffins originally considered it.
Maybe they'll relent, and add a suitable method of propulsion when the chair goes on sale in May 2009.